Danbury Mint / 1963 Corvette Sting Ray Coupe / DM DISCONTINUED / 1:24th Scale
Black w/ Saddle Tan Interior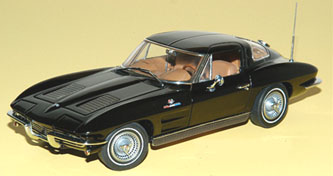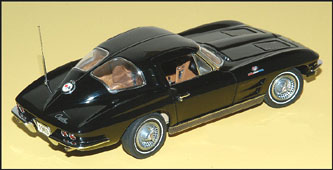 This black, fuel injected coupe is quite well done; replete with all those little DM details we all love...including the antenna that goes down to half size to the operating gas cap, even a saddle tan leather trimmed interior and an excellent dash/wood steering wheel replication that's leaps beyond the norm. The Onyx Black paint is usual DM quality. The overall picture of this model is a very good one.
from the "Ohio Bob" Danbury Mint Collection
According to the seller, and in our opinion after inspection, these models were purchased directly from Danbury Mint and placed on display in a glass cabinet. They were adult owned and never played with, from a pet-free household.

This collection required Vinny & Nicole to perform light detailing to bring the models to near-mint condition. Since the paint finish was not subjected to improper storage (in their boxes), the paint is virtually rash-free!

Most models include title with original owner's name and/or care instructions.

This is an original-owner, first generation collection that is priced to sell.
Part #: DM1034M
Condition: Near-Mint in the Box w/ Papers
Price: $95.00
ClearancePrice: $76.00 (Save 20%)
Status: In Stock