Danbury Mint / 1957 Chevrolet Bel Air Convertible / Limited Edition 5,000 / 1:24th Scale
Inca Silver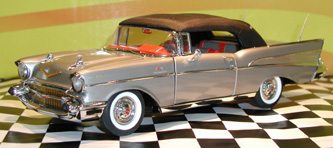 Besides the new fuel injected 283/283 engine, DM has updated this "old tooling" model with a working suspension. It comes with both 'up' top in black and convertible boot in red. The model's stance is perfect, as it sits on its new suspension components. Great detailing features abound on the older-tech diecast.
They include rubberized 'bullets' on the front bumper, dazzling photo-etch crossed flags emblems on the front fenders, Golden V insignias on trunk and hood and golden license plate surround on the trunk lid. I like the look of the car with the tight-fitting boot. The texture finish of the black convertible roof is awesome. Even though there are a number of '57 Chevies around, this one ranks right at the top.
This is a numbered limited edition of 5000. The brass limited edition plate is affixed on the chassis beneath the drivers door. It reads XXXX/5000.
Part #: DM1240M
Condition:
Price: $0.00
Status: SOLD! Thanks Tim!