Danbury Mint / 1955 Corvette Dry Lakes Racer / DM DISCONTINUED / 1:24th Scale
Light Blue Pearl Metallic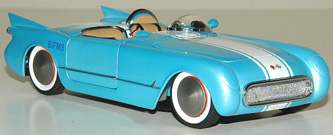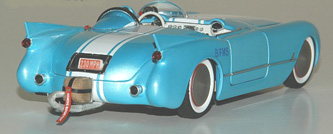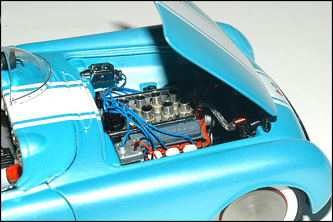 With DM's new dry lakes Corvette, you will notice its stance right off the bat. Slung low and beautiful. Credit the paint for some of that beauty. It is a light blue pearlescent metallic with snow white stripes. DM did a lot of work to transform this C1 Corvette from street stock to a B/FMS class contender. The "B" indicates engine displacement, in this case, a small block Chevrolet. "F" signifies fuel, rather than pump gasoline and "MS" translates out to mean Modified Sports class. A solid, non-flex suspension with its wheels and tires tucked up under the fenders give us a slammed look. The bumpers have been dismissed and the chrome moldings were given the day off from protecting the rear quarter panels and front fender ends. The side moldings were left on the car retaining its early Corvette appearance. The grill has been tunneled and a metal mesh placed behind it. The headlights were covered for aerodynamic effect and aircraft-like fins were added in the rear.
DM scrapped the full windscreen and mounted a pilot's only wind fairing. Next came a driver's pod rear teardrop head restraint with integral roll hoop; chromed, of course. More modifications occur inside. A short-throw racing shifter has been added, four-point racing harness in the driver's seat and a two point lap belt in the passenger's seat. Fabric and photo-etch metal were used. There is a fire bottle on the floor. Under the wind fairing is a large tachometer with red shift point light. The flooring of the car now features tub aluminum except for a small non-slip strip of black carpet under the driver's feet. More mods were performed in the rear of the racer. The chute is properly fastened to the frame you can also trace the release wire under the chassis and up through the body to the right shoulder of the driver as it exits between the seat and the top cover panel. In the trunk DM mounted the fuel cell, battery and nitrous bottle. Metal fuel lines are run from the fuel cell and NOS canister and cables come from the battery.
We see that bored and stroked Chevy small block nestled in the engine bay. The six Hilborn injectors are made from aluminum and are hooked up to chromed fuel rails connected to red and blue anodized "T" fittings near the firewall. Braided hoses snake their way to chilling the engine down, and blue plug wires are held in place by photo-etched metal looms, four of them. A metal fluid line flows from the master brake cylinder and spark comes from a modern day juice box mounted on the firewall.
Part #: DM1381M
Condition: Mint in the box w/ title & care
Price: 0.00
Status: SOLD! Thanks Steve