Danbury Mint / 1958 Chevy Impala Lowrider Convertible / DM Discontinued / 1:24th Scale
Purple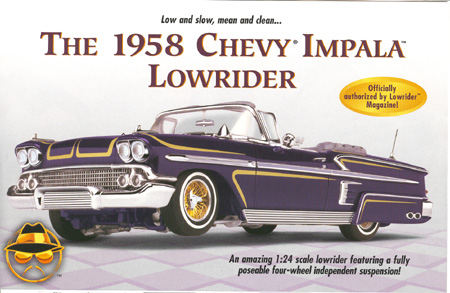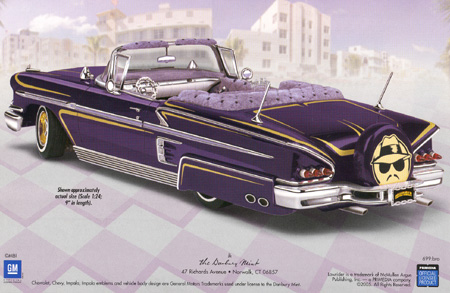 from the "Jim Inglese Danbury Mint" Vault Collection
This collection of 300 models was purchased directly from Danbury Mint by Jim Inglese, former head designer and prototype modeler (with final artist proof authority) for The Danbury Mint's Rod & Customs program. He opened these models for inspection only and then placed them in DRY climate-controlled storage in their original boxes and were never displayed.

Paint finish is mint with no dust, smoke, or sun exposure. Our vintage-NOS condition #1 or #2.

Most of this collection does not include title or care instructions (Danbury employees were not provided paperwork).

Mint to excellent condition original boxes that show they were properly stored.

Most models have door, hood & trunk protectors, interior foam blocks and protective tissue inside the styrofoam as delivered when they were new.

This is an original-owner, first generation collection from a former diecast designer of the Danbury Mint and the owner of Jim Inglese Weber Carburetion, a "car guy" hot rod company.
Part #: DM1404M
Condition: Mint in the Box
Price: 0.00
Status: Out of Stock