Danbury Mint / 1960 Chevrolet Impala Hardtop / Discontinued / Limited Edition 5,000 / 1:24th Scale
Suntan Copper & Fawn Beige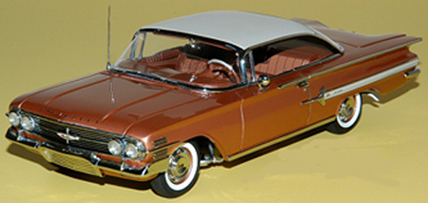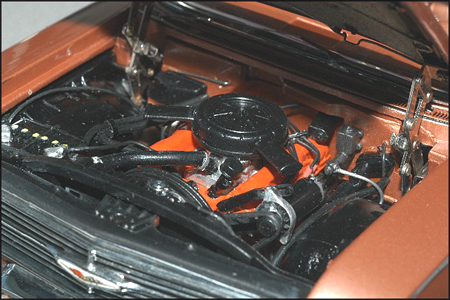 The new Danbury Mint limited edition 1960 Impala features Suntan Copper metallic with a nicely contrasting Fawn Beige top, 348 V8 with a four speed trans. Flip down rear license plate shows off the fuel filler neck and cap. Spare tire removal reveals the tire iron and jacking tools.
The houndstooth interior in copper was first pioneered by yours truly ( for the real car) in 1982 with USA-1 interiors. The gauges continue to impress and the sunvisors fold down from the ceiling, complete with passengerís mirror. The engine, a 348 cubic inch V8, now uses a four barrel carb. This one should be a fast sell-out!
from "Jay's Pittsburgh" Danbury Mint Collection
We were so impressed with the presentation of this collection, that Vinny drove 12 hours round trip to personally inspect and pickup!

"Jay's Pittsburgh" Danbury Mint Collection was purchased directly from Danbury, placed in airtight display cases in an upstairs climate controlled office loft since new. No pets, no dust, no sunlight exposure.

Mint in the Box condition, paint finish is like-new as delivered by DM.

All models include a separate file folder containing title with original owner's name, care instructions, color brochure or mailer and letters.

Mint original boxes with no shelf wear that show they were well cared for in storage. There is no writing by the collector on the boxes.

Most of this collection has their original door, hood & trunk protectors, interior foam blocks and protective tissue inside the styrofoam. Emblem acrylic protectors have been removed, but the emblems are intact.

Jay is a meticulous and very organized classic car enthusiast and the condition of this collection reflects his attention to detail. You will not be disappointed!
Part #: DM1430M
Condition: Mint in the Box w/ Papers
Price: 0.00
Status: SOLD!