Danbury Mint / 1959 Chevrolet Impala Convertible / DM Discontinued / 1:24th Scale
Crown Sapphire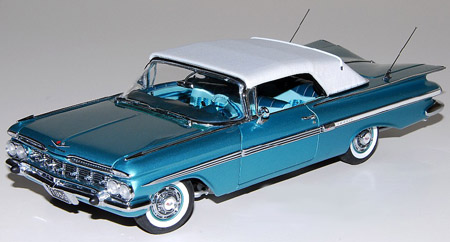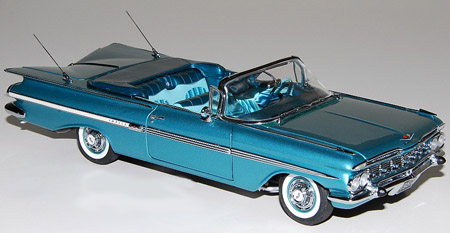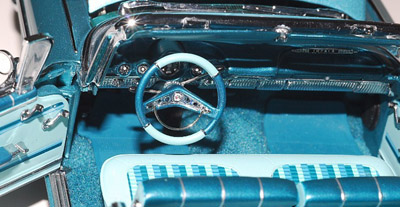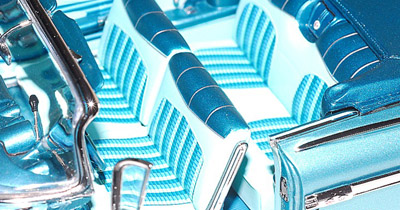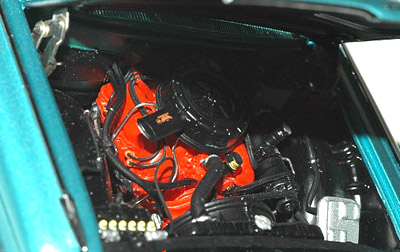 This stunning Crown Sapphire Impala was the first '59 manufactured by Danbury Mint at the time. Crown Sapphire Poly is a gorgeous blend of the most beautiful tropical ocean blue and shimmering aquamarine that one may envision. Applied shiny wet in appearance, it highlights what made this carís styling so over-the-top. Briefly stated, the history of the car began in 1958. The Impala was the highest optioned Bel Air that year. But in 1959 it achieved star status in its own right. The rounded curves of the previous year gave way to swooping, larger than life tail fins rendering the distinctive look that made it famous. Those fins flattened somewhat in 1960, the side chrome trim that ran the length of the body in 1959 disappeared and the overall styling became a little toned down in comparison. So for many of the purists in love with the Impala, the í59 is still today the radical styling benchmark of the breed.
from the "Williams Estate" Danbury Mint Collection
The models in this collection are in excellent to near-mint condition. They were purchased directly from Danbury Mint and other secondary sources, then placed into enclosed display units. We needed to perform light detailing on some models to make them showroom ready.

Adult owned from a pet-free & smoke-free household.

Since the models were properly displayed, the paint is glossy and virtually rash-free.

Most models did not include titles or care instructions, but we'll include them if we have them in our library.

The overall condition of the boxes is fair condition for older releases, and excellent to mint condition on newer releases.

Priced to sell, satisfaction guaranteed!
Part #: DM1445M
Condition:
Price: 0.00
Status: SOLD! Thanks Cyril