Danbury Mint / 1959 Chevrolet Impala Convertible / DM Discontinued / 1:24th Scale
Crown Sapphire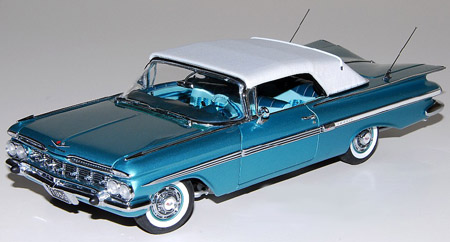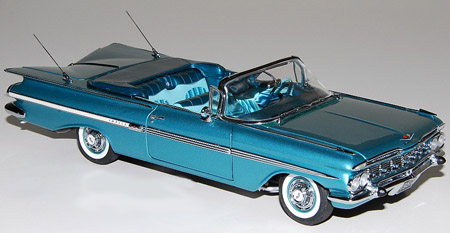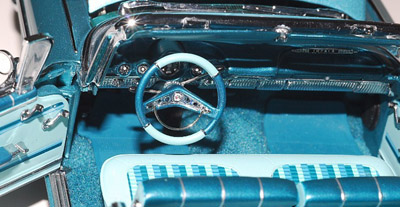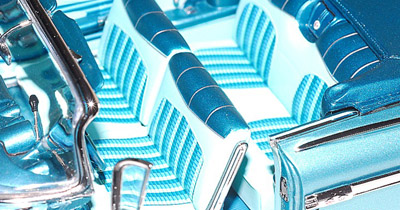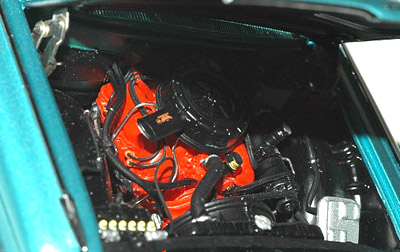 This stunning Crown Sapphire Impala was the first '59 manufactured by Danbury Mint at the time. Crown Sapphire Poly is a gorgeous blend of the most beautiful tropical ocean blue and shimmering aquamarine that one may envision. Applied shiny wet in appearance, it highlights what made this carís styling so over-the-top. Briefly stated, the history of the car began in 1958. The Impala was the highest optioned Bel Air that year. But in 1959 it achieved star status in its own right. The rounded curves of the previous year gave way to swooping, larger than life tail fins rendering the distinctive look that made it famous. Those fins flattened somewhat in 1960, the side chrome trim that ran the length of the body in 1959 disappeared and the overall styling became a little toned down in comparison. So for many of the purists in love with the Impala, the í59 is still today the radical styling benchmark of the breed.
from the "Jacksonville Fla." Danbury Mint Collection
This 1959 Impala was purchased directly from Danbury Mint in 2007, and then placed into BEDROOM CLOSET STORAGE. Never removed from the styrofoam box.

The model retains all its original packing material such as foam blocks and door/hood/trunk protectors & emblem acrylics.

Adult owned from a pet-free & smoke-free household.

Since the model was properly stored the paint is glossy like new and rash-free.

This 1959 Impala has its original title, care instructions & color brochure

The overall condition of the boxes are in mint condition with no end flap marking .
Part #: DM1445M
Condition: NOS (New Old Stock) Like New in the box w/ title, care and brochure
Price: 225.00
Status: In Stock