Danbury Mint / 1975 Corvette Convertible / 1:24th Scale
Bright Green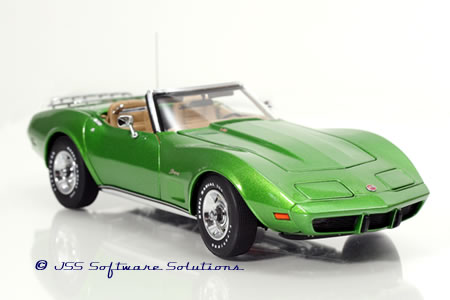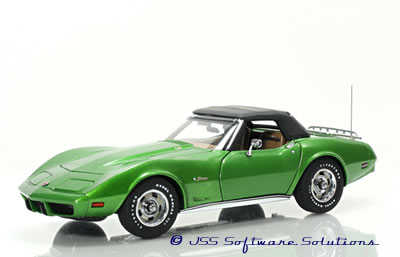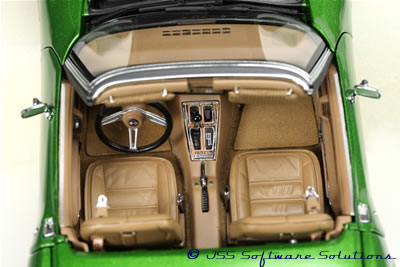 Scale 1:24; 7-1/2" in length
By the mid-1970's, the muscle car era had faded. Few names were left on the automotive landscape to get your heart racing. One exception -- perhaps the only one -- was Chevrolet's hot new Corvette. Sleek, luxurious and fast, the '75 Corvette's allure undeniably beckoned enthusiasts to Bow-Tie showrooms in droves. But after this beauty, concessions had to be made. This new 'Vette was the last of the first-era convertible roadsters. So go ahead, drop the top one last time and add this beautiful Stingray in Bright Green metallic to your collection.
from the "Michigan Tim" Danbury Mint Collection
The "Michigan Tim" Danbury Mint Collection was purchased directly from Danbury, placed in airtight display cases in climate controlled room since new. No pets, no dust, no sunlight exposure.

Mint in the Box condition, paint finish is like-new as delivered by DM.

All models include their original title and care instructions.

Mint original boxes with no shelf wear that show they were well cared for in storage. There is no writing by the collector on the boxes.

Most of this collection has their original door, hood & trunk protectors, interior foam blocks and protective tissue inside the styrofoam.

You will not be disappointed with Tim's collection!
Part #: DM1547M
Condition: Mint in the Box w/ Papers
Price: $129.00
Status: In Stock