Danbury Mint / 1958 Chrysler New Yorker Hardtop / DM DISCONTINUED / 1:24th Scale
Cypress Green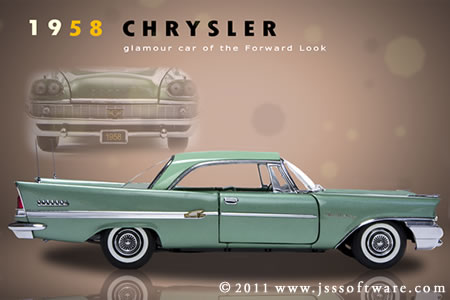 While earlier New Yorkers whispered tales of old money and gentleman's clubs, the '58 edition heralded 5th Avenue fashion and Times Square vitality! Check out the "wow" factor of this magnificent new classic. Chic Spring Green/Cypress Green hand-polished hues highlight this hardtop. The bold, fluid flow from hooded headlights to towering fins instantly draws you in. The subtle use of automotive jewelry, including chrome foil scripts, tailfin louvers, headlight and taillight surrounds, and anodized aluminum spear trim is impressive, and the perfect replica of Mopar's first-generation HEMI, the FirePower 392 V-8, will make this must-have new release a classic for generations.
from the "The Twin Cities" Danbury Mint Collection
This storage find was purchased directly from The Danbury Mint & most boxes were never opened! I was the first to open for inspection.

Original tissue and packing materials are intact on most models.

Tier 1 condition - New Old Stock (NOS Mint in the Box) for most newer releases.

Like-new paint as delivered from Danbury Mint on most all models.

Most all include Care Instructions but no titles.

Mint- excellent condition original boxes.

This is a bought- then- stored Danbury Mint collection. You won't be disappointed!
Part #: DM1653M
Condition: Mint in the box w/ care instructions
Price: $450.00
Status: In Stock