Danbury Mint / 1962 Corvette Convertible / DM DISCONTINUED / 1:24th Scale
Roman Red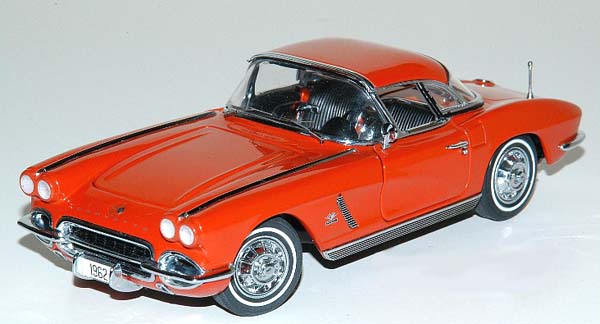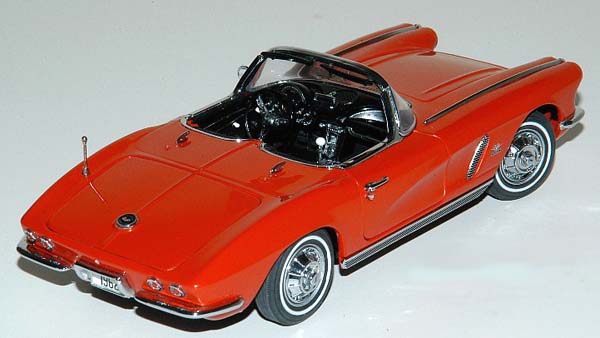 It's a rare Fuel Injected 327 (first year of the 327) and comes fully equipped with a 4 speed trans, full-pop wheel covers (aluminum knock offs were still a year away), narrowband whitewalls, full suspension, operating sunvisors, a spare tire concealed by the rubber mat trunk trim (but removable in a manner exactly like the prototype), and an antenna which raises and lowers at your touch. Wipers and emblems are photo-etched, and all the chrome trim is present and accurately accounted for. The accessory removable hardtop comes packed away in its own pocket atop the Styrofoam carrier which housed the car during shipment/transport.
from the "John E. Adams" Storage Find Danbury Mint Collection
According to the seller, and in our opinion after inspection, these models were purchased by Mr. Adams, inspected and placed into storage containers 15-20 years ago. Some models include original packing material like hood, door, and trunk protectors

Since the models were never displayed and properly stored in their boxes, the paint is high-gloss and dust-free.

All models include title & care instructions.

The original boxes are in excellent to mint condition without any writing on them.

Satisfaction Guaranteed!
Part #: DM914M
Condition: Mint in the Box w/ Papers
Price: 0.00
Status: SOLD!