Danbury Mint / 1962 Corvette Convertible / DM DISCONTINUED / 1:24th Scale
Roman Red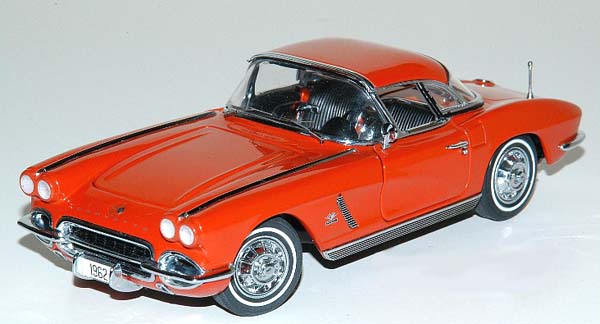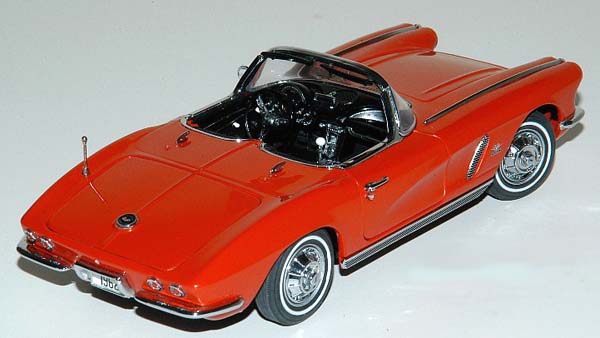 It's a rare Fuel Injected 327 (first year of the 327) and comes fully equipped with a 4 speed trans, full-pop wheel covers (aluminum knock offs were still a year away), narrowband whitewalls, full suspension, operating sunvisors, a spare tire concealed by the rubber mat trunk trim (but removable in a manner exactly like the prototype), and an antenna which raises and lowers at your touch. Wipers and emblems are photo-etched, and all the chrome trim is present and accurately accounted for. The accessory removable hardtop comes packed away in its own pocket atop the Styrofoam carrier which housed the car during shipment/transport.
from the "Kansas City Gallery Store" Danbury Mint Collection
Danbury Mint Retailer, eBay Seller, & Corvette Collector
This original-owner collection was purchased directly from Danbury Mint and immediately placed in his climate-controlled Corvette garage.

The paint finish is glossy, like-new.

Most of the models have their original packing material and acrylic protectors.

Some models include papers. See the description below.

Excellent condition original boxes without any writing or markings.

All models will be opened and carefully inspected by Vinny before shipment.
Part #: DM914M
Condition: Mint in the Box w/ Papers
Price: $49.00
Status: In Stock