Danbury Mint / 1955 Chevrolet Nomad Street Machine - Rod & Custom / DM Discontinued / 1:24th Scale
Torch Red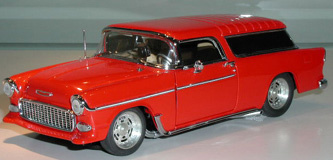 Let's start right out under the hood, a hood that opens forward on accurate spring loaded scissors hinges that show off every detail of the engine compartment, from the air conditioner condenser located in front of the radiator and connected to the engine with realistic braided hoses. There's a radiator overflow, the throttle rod terminates in a return spring, a super coil is mounted against the aluminum fire wall, the valve covers are chromed, the serpentine belt is right on. You can easily see the disk brake details inside the billet rims, and even the hood pins have lanyards in place.
All the glass is dark smoked, and the driver and passenger doors have smoked glass windows in the ¾ position. A dash-mounted tach, floor mounted fire extinguisher, and billet steering wheel have been added. The bench seat on the staid production Nomad has been replaced with two buckets with proper seat belts, and finishing it off are the stereo speakers mounted on the spare tire lid and interior side walls. Of course the car sits low, the headers barely clearing the road.
Part #: DM926M
Condition:
Price: $0.00
Status: SOLD! Thanks Charles!