Danbury Mint / 1958 Plymouth Pro Street Hardtop / 1:24th Scale
Red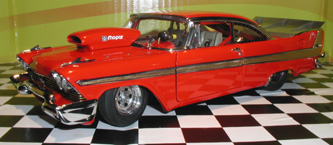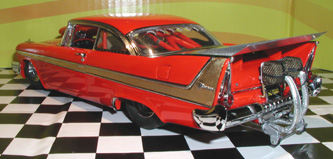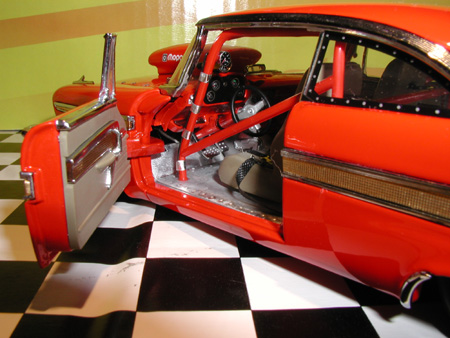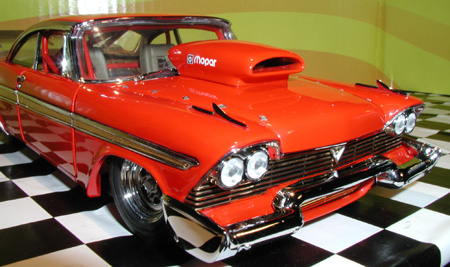 This is one of Danbury's "Dominators of the Drag Strip" collection. Based on the street stock version of their 1958 Plymouth Fury in Buckskin, DM's diecast design team went from mild to WILD with this Pro Street heartthrob. Don't like red? Don't care for drag race vehicles? Get this one in front of you for a minute and you might just change your mind. The body of the car is all that was taken from the previous Fury model. From the chassis up, this one is pure race. I have yet to see so much detail built into a diecast 1:24 car model as this bad boy.
Materials: you will find formed aluminum in the radiator cover-shield, floor pan and accurately formed and ribbed rear wing, as up to date as next Saturday's Pro Street drags. Photo-etch metal is found in the lower grill insert, the awesome air vent panel under the delicately formed wipers and also in a finely replicated drag chute release on the center top of the interior's roll cage. Race seat belt ends and Dzus fasteners are also perfectly fashioned in photo-etch metal. Speaking of interior, the driver's bay is awash in detail. There's every conceivable switch and extra gauges are seen wired to the dash and duct taped to the front roll bar. Fire bottle lines and nitrous lines flow forward to the engine while chute lines run rearward to the trunk. Back there you will find twin batteries and a flawlessly replicated fuel pickup line running from the fuel cell to the electric fuel pump and one from the pump to the engine bay. As in any racecar, the center of attention in this gorgeous creation is the motor. DM outdid itself here folks. The plug wires are incredible, as are the tiny wire looms and brake cylinder lines and rubber fan belt. But the carburetor linkage and fuel lines steal the show. Perfectly modeled in fine wire, the linkage connects the two huge four-barrel carbs and even features a miniature return spring. Metal springs also compliment the car on the rear shock coil-overs and the twin wheelie bars. Photo-etched metal encases the driveshaft to comply with safety regulations for the Pro Street drag class while drilled rotors spin within the rear disc brake assemblies to round out the fantastic bottom view of the model.
This is a magnificent diecast, showcasing all of the most up to date technology that is today's best of the best. My hat is off to the fine folks at DM for bringing this beautiful beast to us. If you appreciate fine art in the automobile, this red, race Mopar is just your ticket. I give this little cherry bon-bon 5 shining stars!
Part #: DM1271M
Condition: Mint in the box w/ title & care instructions
Price: 0.00
Status: SOLD! Thanks Charles