Danbury Mint / 1958 Plymouth Fury Hardtop / 1:24th Scale
Buckskin Beige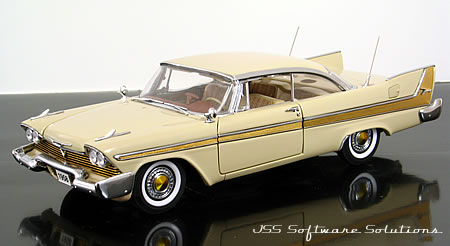 Danbury Mint has done a great job of capturing the essence of this fast, finned Plymouth; proportions are right on, the chrome and gold "Mylar" side trim is accurately replicated even down to the texture of the Mylar. Highlights are the 361 CID Dual Quad V8 in the detailed engine bay...attached to a 3 speed Torqueflite push button automatic.
The interior is equipped exactly the way we've come to expect from Danbury....right down to the seat backs and the rearview mirror mounted on the dash. In the trunk you'll find the metal spare tire disc cover is held in place with a proper mounting bolt...and its all removable. The fuel filler door located on the left fin, is fully operable. The suspension also functions.
from the "Darby Estate" Danbury Mint Collection
The majority of this Darby, Pa. collection was purchased directly from Danbury Mint and placed in climate-controlled, spare room storage. Most models were never removed from the original box, never displayed, dust-free.

The paint finish is mint without any humidity-based paint rash.

Most of the models DO NOT include any paperwork.

Mint condition original boxes, most without any writing or shelf wear.

Most models have door, hood & trunk protectors, interior foam blocks and protective tissue inside the styrofoam.

All photo-etched emblems are intact, most with protective acrylics.

We proudly present this exceptional collection to you, Satisfaction Guaranteed! We're confident that once you purchase one, you'll want to come back for more!
Part #: DM1028M
Condition: Mint in the Box, No Papers
Price: $120.00
ClearancePrice: $79.00
Status: In Stock