Danbury Mint / 1955 Ford Thunderbird / 50th Anniversary Limited Edition 5,000 / DM Discontinued / 1:24th Scale
Goldenrod Yellow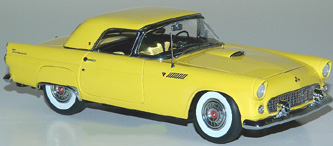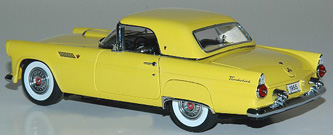 This model commemorates the 50th anniversary of Ford's Thunderbird. Danbury will limit this edition to the number of units sold during the year of 2005 only. This is an all-new tool from Danbury Mint.
We have come to expect perfection in our little car's paint jobs and once again DM does not disappoint. The coverage is spectacular. DM went all out to detail the bird. The model comes laden with magnetic plastic covering the chrome metal foiled emblems and insignias. Take your time removing them; the wait is well worth it. Check out the wheels. There is photo-etched wire in the wheel covers. While we are on the subject, you will notice photo-etch metal in the grille, in the functional hood scoop opening, the exquisitely fashioned door sills and on the rear deck as removable top holding brackets.
The interior is featured in black and yellow with matching door panels, it is a striking sight when you remove the top. The seats show off the stitching on the black sides and top portion. The yellow seat inserts are deeply patterned. The dash is full of nicely detailed gauges and the steering wheel, floor and pedals are well defined. Little door locks protrude over the doors. To affix the top, simply match up the two clamps with the windshield header and then let the two metal pins in the back of the top mate up with the holding brackets. Under the hood, you will see the optional chrome 'Dress Up Kit' and proper plug wires, battery cables and the aforementioned fuel lines and hose clamps. Of course the "See Clear" fluid bag is in place in the engine bay. The suspension works. If you do not care for the fender skirts, take them off.
from "Nikki's Orlando" Danbury Mint Collection
The Danbury Mint diecast cars in this collection were purchased directly from Danbury Mint and immediately placed into storage in Virginia where the models spent most of their life, until relocating to Florida. Most models were never removed from their styrofoam.

The paint finish is glossy, like-new. Vinny's Used Cars will offer those models with mild paint rash.

Most of the models have their original packing material and acrylic protectors.

Most models include papers. See the description below.

The original outside boxes are in very good condition with black marker writing.
Part #: DM1389M
Condition: Mint in the Box, No Papers
Price: $149.00
Status: In Stock