Danbury Mint / 1940 Ford Deluxe Tudor Sedan / DM DISCONTINUED / Limited Edition of 5,000 / 1:24th Scale
Folkestone Gray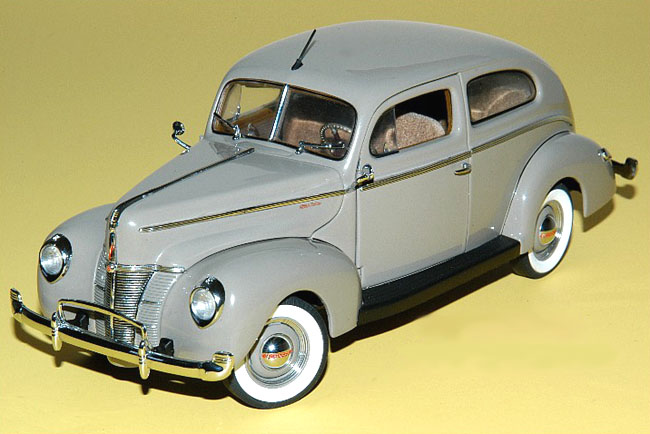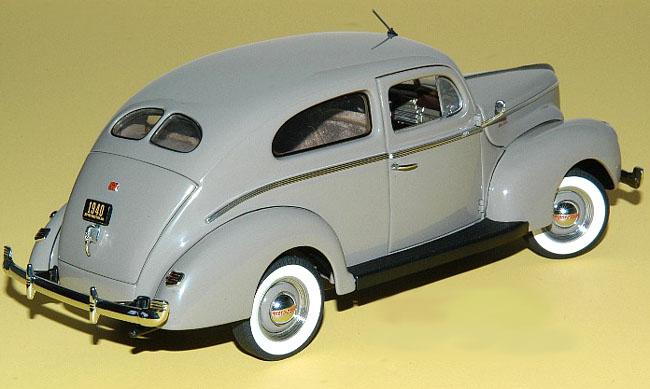 This limited edition replica features more than enough detail to do justice to the famous original. Look at the elegant, sweeping lines of the '40 Ford's body. Admire the trademark grille and the beautiful chrome trim that sweeps down the sides. The 221 cubic inch, 85 hp flathead V-8 is perfectly replicated under the fuctioning hood Open the doors and tilt the seats forward to view the rear seating area. The sun visors actually pivot, and the spare tire is removable from the model's operating trunk. The steering wheel turns the front wheels and all four wheels spin freely.
from "Nikki's Orlando" Danbury Mint Collection
The Danbury Mint diecast cars in this collection were purchased directly from Danbury Mint and immediately placed into storage in Virginia where the models spent most of their life, until relocating to Florida. Most models were never removed from their styrofoam.

The paint finish is glossy, like-new. Vinny's Used Cars will offer those models with mild paint rash.

Most of the models have their original packing material and acrylic protectors.

Most models include papers. See the description below.

The original outside boxes are in very good condition with black marker writing.
Part #: DM1419M
Condition:
Price: $0.00
Status: SOLD! Thanks James!