Danbury Mint / 1947 Ford Special Deluxe Tudor Sedan / DM DISCONTINUED / 1:24th Scale
Monsoon Maroon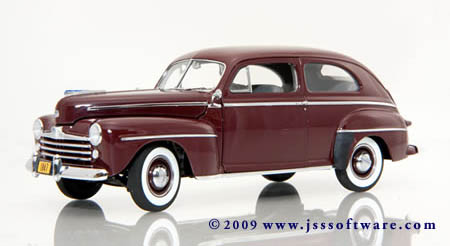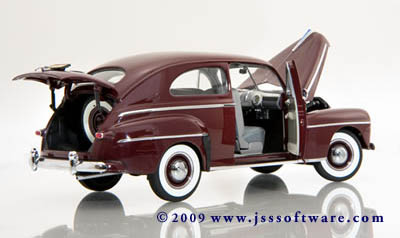 The FIRST EVER '47 Tudor replica...A Special Collector's Edition

Immediately after the automotive drought of World War II, economy-minded car buyers may have been looking for a good deal, but after years of austerity, they were also ready for a bit of pampering. The car that fit their bill was the '47 Ford Tudor. With its downtown price and uptown looks, the Tudor also packed a punch no other entry-level auto touted – available V-8 power! Now for the first time ever as a precision model, we bring you the car that had America rocketing down the road to prosperity.
from the "Dan King" Danbury Mint Collection
This collection was purchased directly from Danbury Mint and placed in storage. It appears that they were never removed from their original boxes, and never displayed.

The paint finish is like-new.

Some models include paperwork, some do not. See the description below.

Mint condition original boxes without any shelf wear.

Most models have door, hood & trunk protectors, interior foam blocks and protective tissue inside the styrofoam.

All photo-etched emblems are intact with protective acrylics.

Satisfaction guaranteed!
Part #: DM1566M
Condition: Mint in the Box, No Papers
Price: 0.00
Status: SOLD! Thanks Richard