Danbury Mint / 1922 T Bucket Kookie's Kar / Limited Edition / 1:24th Scale
Blue w/ Flames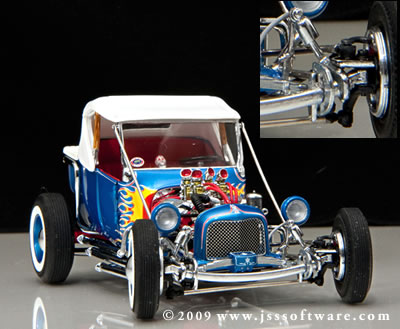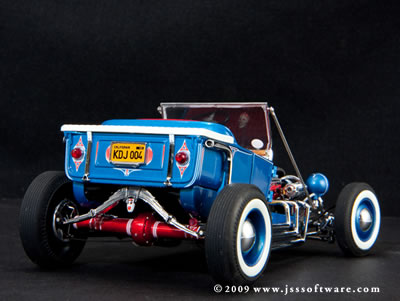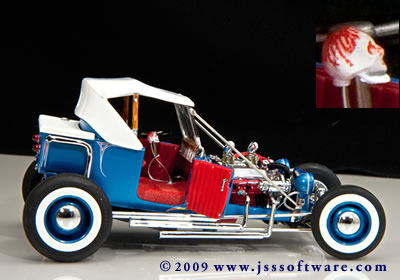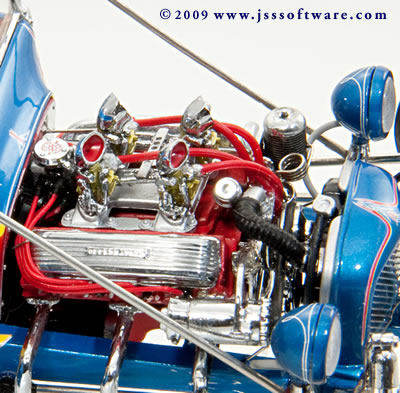 Limited Edition Kookie's Kar
Personally authenticated by Norm Grabowski!

Norm Grabowski's diminutive hot rod was such a hit that it was featured on the cover of Car Craft magazine in April of 1957, as well as most other leading rodding magazines of the time. From there, it became the ride of actor Edd Byrnes (a.k.a. Kookie) in the hit television series 77 Sunset Strip. It was at that point that the car itself picked up a name that has forever been immortalized in hot rod history…Kookie's Kar.
Equally at home on the drag strip, the floor of the Oakland Roadster Show, or on the TV screen, this red, white and blue all-American beauty became a classic that has spawned countless imitators. Norm's car was so well thought out and so beautifully finished that it is easy to see why the "T-bucket" became a style all its own, and continues to be an inspiration for hot rods more than 50 years later.
Available for the first (and only!) time in 1/24 scale precision die-cast, Kookie's Kar can now find another home…in your collection. This is a strictly limited edition. Models will be produced only until December 31, 2009 -- never again!

Part #: DM1572M
Condition:
Price: 0.00
Status: SOLD! Thanks Ronald