Danbury Mint / 1949 Oldsmobile Rocket 88 Coupe / 1:24th Scale
Ivy Green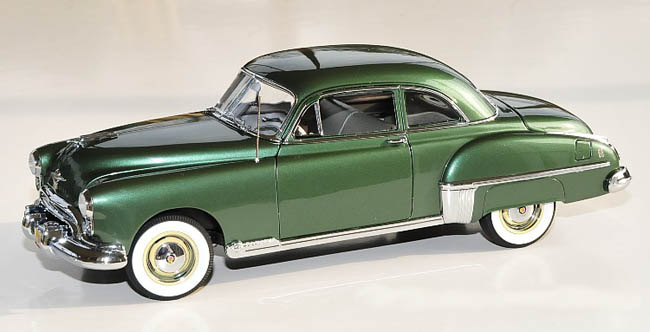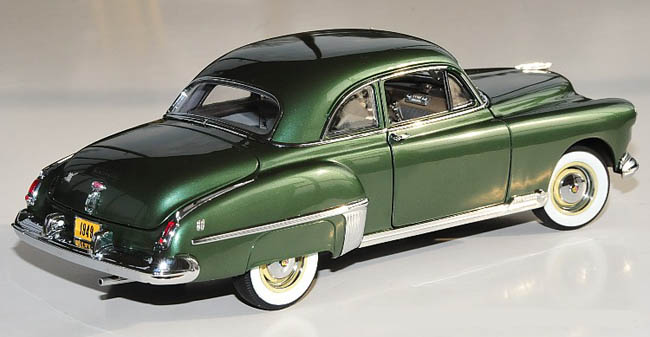 A Brand New Tool and a dandy at that; the 49 Olds "Rocket 88" was a working mans car back in the day, and the Danbury Mint captured its regal beauty flawlessly. The Danbury Mint "Rocket 88" is a regular release, not limited edition. However, donít fall into the trap of waiting to order it; you just donít know when it will disappear like so many before it. The fit and finish on our sample are flawless. The interior is outstanding with exceptional attention to detail. And the engine compartment is fully plumbed with nothing missing, be sure to flip it over and check out the oil filter; I think you will be impressed. This is what makes a model great...attention to detail. I strongly suggest adding this model to your short list of "Must≠Haves" ; you wonít regret it.
from the "Dan King" Danbury Mint Collection
This collection was purchased directly from Danbury Mint and placed in storage. It appears that they were never removed from their original boxes, and never displayed.

The paint finish is like-new.

Some models include paperwork, some do not. See the description below.

Mint condition original boxes without any shelf wear.

Most models have door, hood & trunk protectors, interior foam blocks and protective tissue inside the styrofoam.

All photo-etched emblems are intact with protective acrylics.

Satisfaction guaranteed!
Part #: DM1580M
Condition: Mint in the Box, No Papers
Price: $249.00
Status: In Stock