Danbury Mint / 1949 Oldsmobile 88 Station Wagon / Limited Edition 5,000 / 1:24th Scale
Black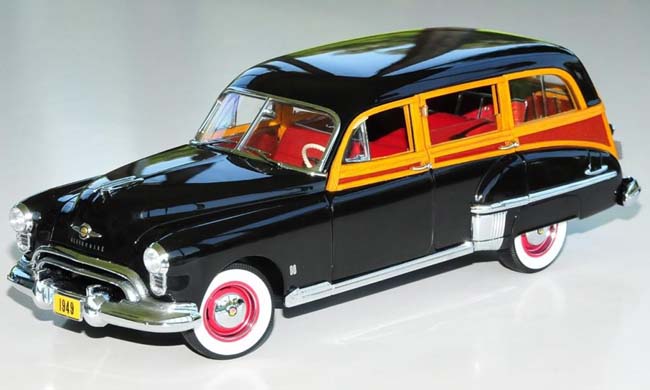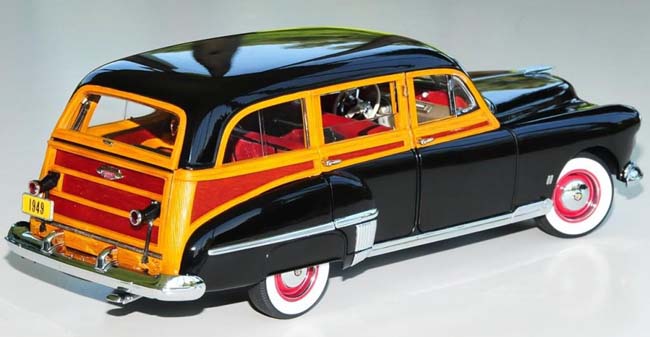 Someone say "Woody"? For all you wagon lovers out there now is your chance to add another beautiful Woody to your growning collection. The 1949 Olds 88 Wagon is a "Limited Edition" of 5000 units. It will sell out quickly, buy it now, or hunt for it on auction later. I'm just sayin'! The wood panels are dark and rich, very realistic, a nice compliment to the black glass like finish. The rear door functions smoothly and it is very easy to operate. There is a tool to help open the rear doors and I suggest you use it so you don't break the rear window glass. The interior of the Woody is superbly executed which only makes this model more desirable. Slap in a fully detailed Rocket V-8 and you have the recipe for another winner from the Danbury Mint. You might call this write-up all hype but trust me it doesn't get any better than this. I'm just sayin'! Bottom line you need to add another one to your list of must have models you won't regret it.
from the "The Twin Cities" Danbury Mint Collection
This storage find was purchased directly from The Danbury Mint & most boxes were never opened! I was the first to open for inspection.

Original tissue and packing materials are intact on most models.

Tier 1 condition - New Old Stock (NOS Mint in the Box) for most newer releases.

Like-new paint as delivered from Danbury Mint on most all models.

Most all include Care Instructions but no titles.

Mint- excellent condition original boxes.

This is a bought- then- stored Danbury Mint collection. You won't be disappointed!
Part #: DM1590M
Condition: Mint in the box w/ care instructions
Price: $249.00
Status: In Stock