Danbury Mint / 1927 Ford Panel Delivery Truck Coca-Cola / 1:24th Scale
Yellow & Black w/ Coca-Cola Graphics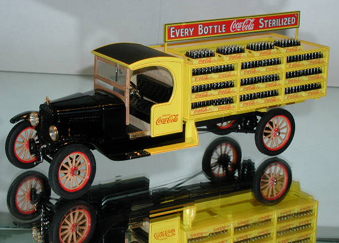 This model features opening hood, and operating steering. Includes removable cases of Coca Cola.
from the "ChicagoLou" Collection
This original, one-owner collection consists of models purchased directly from Danbury Mint and Franklin Mint. Most models were placed in storage immediately after being purchased.

All models include papers.

The boxes are in excellent condition. The end flaps on all Franklin Mint models and most Danbury Mint older releases have black marker writing to identify the vehicle. Example: CLICK HERE

All models will be opened and carefully inspected by Nicole & Vinny before shipment.
Part #: DM503M
Condition: Mint in the Box w/ Papers
Price: $49.00
ClearancePrice: $35.00 (Save 30%)
Status: In Stock