Danbury Mint / 1957 Chevrolet Bel Air Fuel Injected Hardtop / Limited Edition 5,000 / 1:24th Scale
Matador Red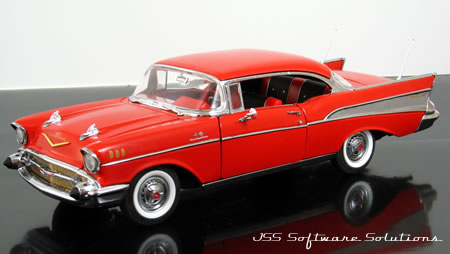 This may appropriately be considered to be the companion piece to the previously issued (7/2002) 1957 Chevrolet Bel Air "Fuelie" Convertible - Numbered Limited Edition of 5000, in Inca Silver, now retired by DM. This Matador Red coupe is only available to those that ordered the convertible from Danbury however we have managed to acquire a limited number of units for those that didn't want the convertible.
Typical of Danbury craftsmanship, the paint is beautiful. As one who used to paint and restore these cars, the color is dead on. The finish is so shiny it sparkles. In this shade of red, with black and red interior, enhanced by silver piping, the model seems to call out, "Look at me!" The engine updates include distributor wiring, metal fuel lines and decaling on the air filter system. These help bring the model into the 21st Century. The working suspension does a lot to help as well.
Glass in the wind wings; good detail on the roof drip moldings and perfect attention to insignia scaling makes this one of the best '57 Chevies ever in 1:24th. The parking lights and rear lamp lenses are plastic and not merely painted on and the great alignment of doors, hood and trunk are standard 'DM-terrific'. The limited edition plate is on the chassis beneath the driver's door. It is stamped with, "Limited Edition Serial # xxx".
Part #: DM1254M
Condition:
Price: $0.00
Status: Out of Stock