Danbury Mint / 1957 Corvette Convertible - Chip Miller / 1:24th Scale
Aztec Copper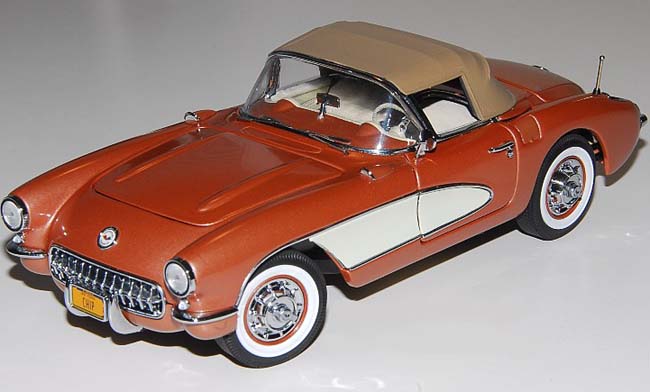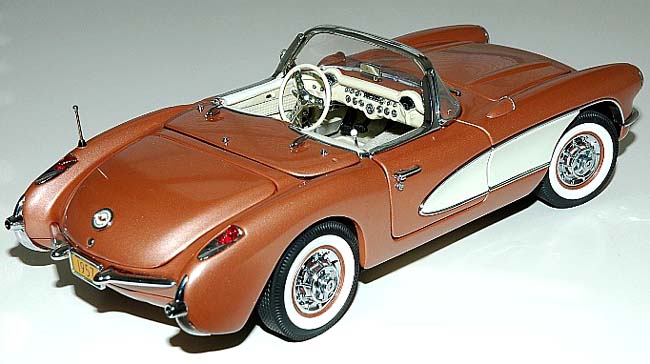 For Carlisle Events co-founder Chip Miller, an ad for the sleek 1957 Corvette ignited his lifelong passion, eventually leading to the annual Central Pennsylvania special interest car shows. In honor of Chip's life and legacy, Danbury Mint was proud to offer this replica of his rare Aztec Copper '57 Corvette. The Danbury Mint also donated $25,000 to the Chip Miller Charitable Foundation, dedicated to fighting Amyloidosis (the rare plasma cell disorder that claimed Chip).
from the "Darby Estate" Danbury Mint Collection
The majority of this Darby, Pa. collection was purchased directly from Danbury Mint and placed in climate-controlled, spare room storage. Most models were never removed from the original box, never displayed, dust-free.

The paint finish is mint without any humidity-based paint rash.

Most of the models DO NOT include any paperwork.

Mint condition original boxes, most without any writing or shelf wear.

Most models have door, hood & trunk protectors, interior foam blocks and protective tissue inside the styrofoam.

All photo-etched emblems are intact, most with protective acrylics.

We proudly present this exceptional collection to you, Satisfaction Guaranteed! We're confident that once you purchase one, you'll want to come back for more!
Part #: DM1379M
Condition: Mint in the Box, No Papers
Price: $149.00
Status: In Stock