A
Danbury Mint / 1972 Corvette Convertible / DM DISCONTINUED / 1:24th Scale
War Bonnet Yellow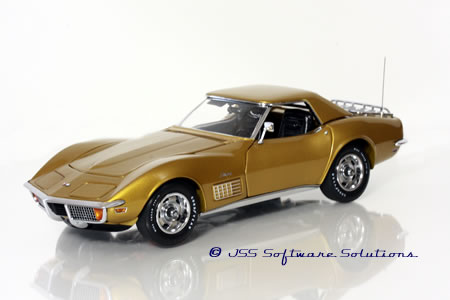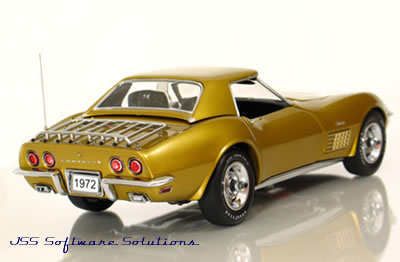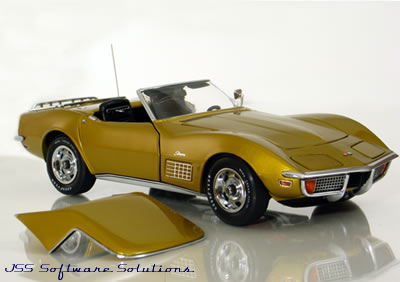 By 1972, rising insurance premiums and federal engine mandates were spelling the end of the rip-roaring, gas-guzzling muscle cars. One nameplate, however, proudly carried the banner of homegrown speed - the third generation Stingray. In its most assertive variation, buyers could get Chevrolet's renowned 454 cubic inch LS5 big-block V-8, producing an impressive 270hp. To bring you the serious driver's Stingray of choice, our replica is painted in shimmering Ontario Orange and we've mated the potent LS5 to a 4-speed stick and shod our 'Vette in white-letter Firestone wide oval tires!
from the "Ohio Bob" Danbury Mint Collection
According to the seller, and in our opinion after inspection, these models were purchased directly from Danbury Mint and placed on display in a glass cabinet. They were adult owned and never played with, from a pet-free household.

This collection required Vinny & Nicole to perform light detailing to bring the models to near-mint condition. Since the paint finish was not subjected to improper storage (in their boxes), the paint is virtually rash-free!

Most models include title with original owner's name and/or care instructions.

This is an original-owner, first generation collection that is priced to sell.
Part #: DM1388M
Condition: Near-Mint in the Box w/ Papers
Price: $175.00
ClearancePrice: $140.00 (Save 20%)
Status: In Stock