Danbury Mint / 1956 Chrysler 300B / 1:24th Scale
Raven Black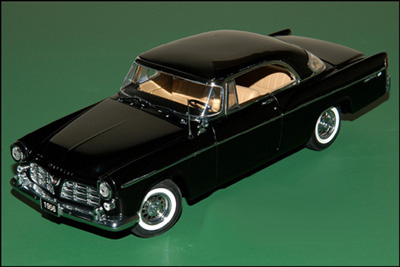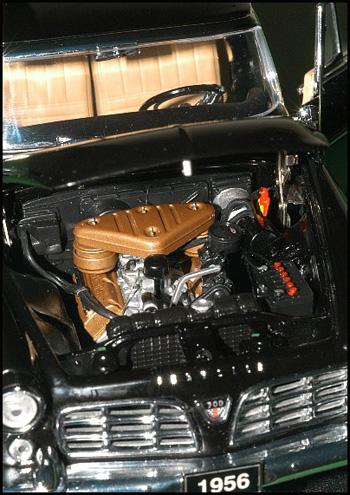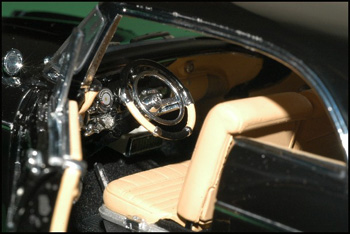 The first so-called, "Letter Car" of Chryslerís performance oriented vehicle line was the 1955 Chrysler C-300. It got itís moniker from the 300 horsepower engine beneath its hood and, believe it or not, the "C" stood for coupe. In 1956 the letter reverted to a "B" but the horsepower rating went up to 340 brake HP. This was produced by a 354 cubic inch hemi engine. In addition, there was an option to go with a higher compression, 10:1, 355 bhp motor, also a hemispherical combustion chamber mill. This 1956 car was rarer, at 1102 units sold, than the 1955 Chrysler where 1725 were produced during the first yearís outing. For 1957 the 300 once again picked up the "C" classification and they went on from there. Interestingly enough, however, there was no "I" model. Chrysler thought it could be confused for a "1".
Danbury has made the transition from their DeSoto line of very well received models to the venerable '56 Chrysler 300B discussed here. There was a ready crowd for this eagerly anticipated model in 1:24th scale and DM provided us with a real beauty. In a high gloss Raven Black. DM chose an elegant color combination, adding the tan interior, dressing up the high class attitude of the vehicle with medium whitewalls and an exemplary set of wire wheels. As with the DeSoto variants there is a tremendous amount of functionality to the model and wonderful fit and finish. Each opening panel, doors, hood, gas filler door and trunk lid, fits precisely and is evenly spaced within their boundaries. The doors open on internal spring hinge assemblies and the hood is in a whole other world of precision diecast. They are a dual scissors springs arrangement with working miniature springs painted in the pre-requisite red of the day. Not to be upstaged by the hood holder-uppers, the engine bay glows like a black Cheshire cat that just swallowed a canary; a large gold and silver hemi canary. DM spared no quarter in including detail here. Everything is connected; plug wires, air and vacuum lines, heater hoses, battery cables, metal fuel lines and a windshield washer bag. Heater hoses have their proper clamps and the battery is labeled with, "Mopar". Other labels are affixed for instructional and "Caution" warning purposes. The antenna is fixed and scaled to size and chrome foil lettering is carried out perfectly for the "Chrysler" letters up front and "Chrysler 300B" script on the sides.
The trunk has the usual suspects in it; soft flocked carpet, a removable spare, not wire, which is correct, jack and jack stand behind the spare and the tire iron in its hold-down anchor. Internally, this was a nice place to send an afternoon cruising and showing off or an equally opulent place to spend a quiet and classy evening on the town. It even comes with the "Hiway Hi-Fi", mounted center front floor. Of course DM saw to it that the front seats fold forward and the visors fold down. The dash and gauge package is well defined and detailed and the black carpet is soft and scaled properly. The chassis holds nice detailing. The suspension is operational. Check out the headers, steering system authentications and the gas filter bowl.
from the "Darby Estate" Danbury Mint Collection
The majority of this Darby, Pa. collection was purchased directly from Danbury Mint and placed in climate-controlled, spare room storage. Most models were never removed from the original box, never displayed, dust-free.

The paint finish is mint without any humidity-based paint rash.

Most of the models DO NOT include any paperwork.

Mint condition original boxes, most without any writing or shelf wear.

Most models have door, hood & trunk protectors, interior foam blocks and protective tissue inside the styrofoam.

All photo-etched emblems are intact, most with protective acrylics.

We proudly present this exceptional collection to you, Satisfaction Guaranteed! We're confident that once you purchase one, you'll want to come back for more!
Part #: DM1433M
Condition: Mint in the Box, No Papers
Price: 0.00
Status: SOLD! Thanks Todd