Danbury Mint / 1967 Corvette Coupe / DM DISCONTINUED / 1:24th Scale
Sunfire Yellow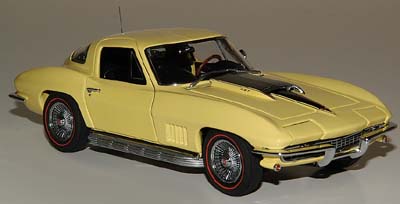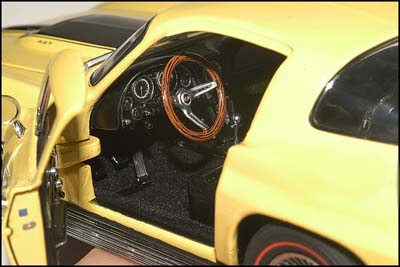 Its pure power and legendary design marked the end of an era...
The 1963 Sting Ray's design was so cutting-edge that it rocketed the Corvette from a cult favorite to the center of the automotive styling world. The popular body style would make one final appearance for the '67 model year. The last of the C2's was stripped of extraneous chrome, louvers, scoops and badges, and with a 427 cubic inch, 435 hp engine, it is considered by many as the best vintage of the Sting Ray's five-year run!
from the "Texas 'Vettes" Danbury Mint Collection
The collection originates from the dry, low humidity region of Dallas, Texas.

Paint finish is smooth & glossy. "Humidity-based rash" is not present.

Most DM models in this collection include papers: Title and/or Care Instructions.

Very good original outside boxes with black marker ID writing on the end panel.

Most of this collection required Vinny & Nicole to perform light detailing to bring to near-mint condition. The models were previously displayed in enclosed glass cabinets.

Ready to display proudly in your collection, Satisfaction Guaranteed!
Part #: DM1444M
Condition: Near-Mint in the Box w/ Papers
Price: $159.00
ClearancePrice: $103.00 (Save 35%)
Status: In Stock