Danbury Mint / 1956 Buick Roadmaster Riviera 4 Door Hardtop / DM DISCONTINUED / 1:24th Scale
Carlsbad Black/Seminole Red/Cameo Beige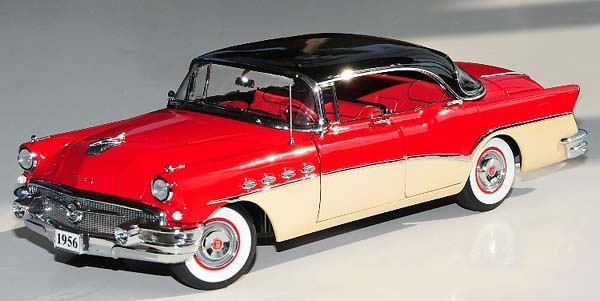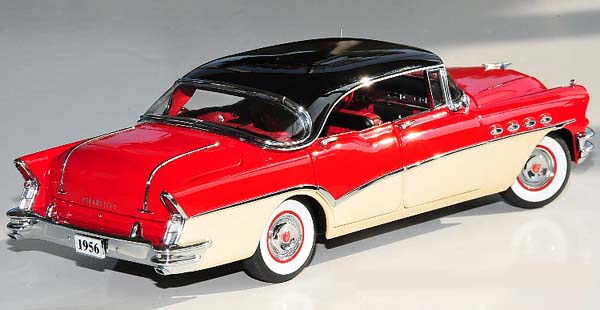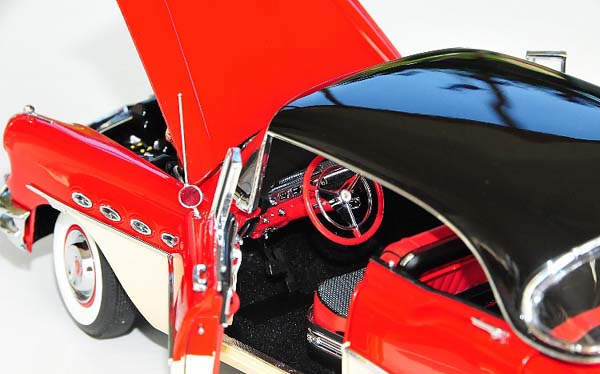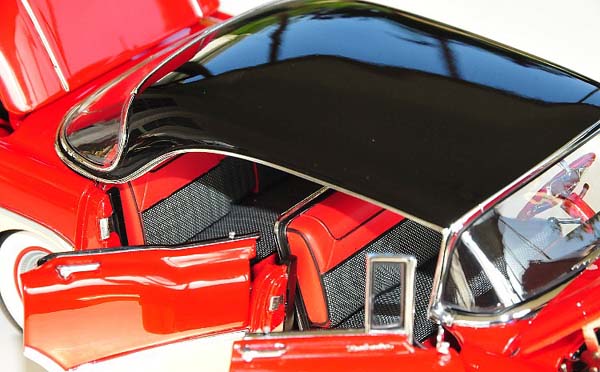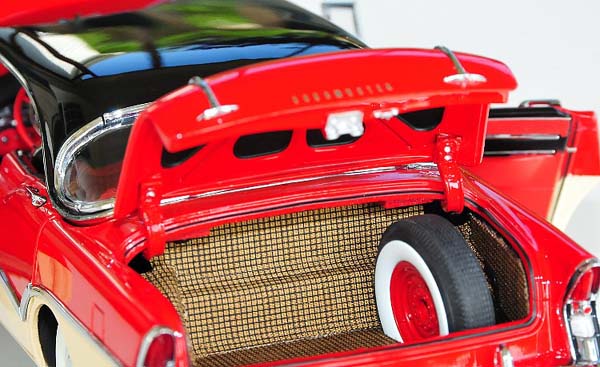 Scale 1:24; 9" in length.
Danbury Mint's first 4-door hardtop replica ever!

In the image conscious '50s, perhaps nothing sold cars more readily than style, something that the Riviera had in spades! This brand new, 4-door hardtop is a historic first, and it's one replica you simply have to own. Its fashionable tri-color paint is hand polished to capture every gleaming nuance of the Harley Earl-era stylistic hallmarks. And then there are those details that belonged only on the top-of-the-line Roadmaster series - the thinly chromed headlight trim, the fender mounted "gunsight" ornaments and the twin chrome rear deck runners – all reproduced with breathtaking realism.

Open one, two, or all four doors and soak up the lounge-like red and black interior. With star-pattern nylon and Cordaveen upholstery, a fold-down rear seat armrest, chromed roof bows and even a glare-proof rearview mirror, you'll be immersed in 50's designer luxury! This first ever 4-door replica, crafted from more than 325 parts, represents die-cast model making at its best!

from "Nikki's Orlando" Danbury Mint Collection
The Danbury Mint diecast cars in this collection were purchased directly from Danbury Mint and immediately placed into storage in Virginia where the models spent most of their life, until relocating to Florida. Most models were never removed from their styrofoam.

The paint finish is glossy, like-new. Vinny's Used Cars will offer those models with moderate to severe paint rash.

Most of the models have their original packing material and acrylic protectors.

Most models include papers. See the description below.

The original outside boxes are in very good condition with black marker writing.
Part #: DM1622M
Condition: Mint in the Box w/ Papers
Price: $295.00
Status: In Stock