Danbury Mint / 1964 Corvette Coupe / Limited Edition 5,000 / DM Discontinued / 1:24th Scale
Saddle Tan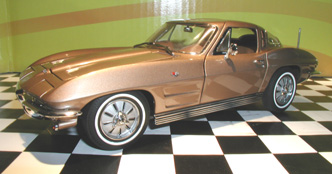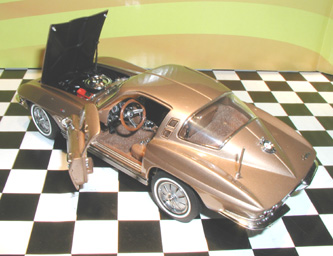 This is a story of subtleties and color. A 1964 Corvette may be perceived as an easy switch-over from 1963 tooling but to get it right takes study and execution. And don't come up short thinking that this issue is merely a color change from the '65 coupe either. They are like night and day. That is where subtlety checks in. There are styling cue differences all over the car to distinguish it from the previous and subsequent model years. DM seems to have done their homework and nailed them all. Although the '64 and '65 diecast models have the same whitewalls, not all model year Vettes have the same wheels. For 1964, only black wheels came with the car, unless optioned out with aluminum wheels. DM got it right. The wheel covers, drab-looking in photos, are multidimensional up close and in person. The contrast between bright and matte finish is excellent. The body side sills are different between the '63, '64 and '65 cars. DM got that too. The interior compartments are subject to small nuances of change between the years and not only is this correct for the model, check out the fabric belts across the seats, but so is the gas filler cap difference!
Saddle Tan is a little-seen color that begs to be viewed in person. Ever so subtle is the metallic in the rich tan-bronze hue. The color highlights the gorgeous C2 generation shape. This was Corvette's most rare color for '64 with only 1765 cars so painted. The most popular color was Riverside Red accounting for nearly three times as many sales as Saddle Tan. The finish here is exceptionally bright and seemingly clear-coated. The model shines like a brand new penny.
Other changes that make this car such a treasure are the gorgeously crafted metal insignias and emblems. While the 'Corvette Sting Ray' script on the right rear deck is carried over from the Nassau Blue coupe, the front nose emblem is metal as well. The side fenders are likewise treated to perfect little crossed flag emblems to boot. Photoetched door striker plates mimic the ones used on the '65. The 327 engine is all new and boasts nice metal emblems of its own. They read, 'Chevrolet 327 Turbo Fire' in perfect miniature. We have come to expect the working prop rod to hold the hood open and also see the prerequisite wires and fuel lines and brake lines. But also fabricated is a sweet little dipstick! The antenna extends, suspension articulates and the headlights swivel open. One last little change will make you smile. Emergency brake lines and springing has never looked so realistic. Danbury continues to please and this deserves a solid 5 out of 5 on the ol drool index meter.
Part #: DM1309M
Condition:
Price: 0.00
Status: SOLD! Thanks Charles