Danbury Mint / 1957 Chrysler 300C Hardtop Custom / 1:24th Scale
Sunset Bronze w/ White Top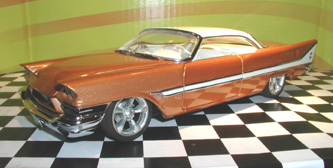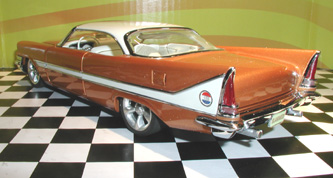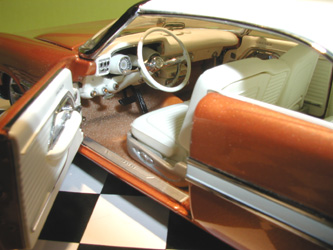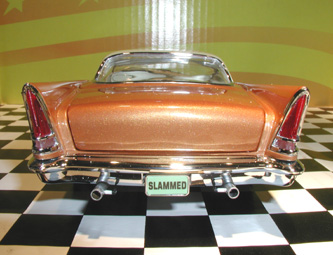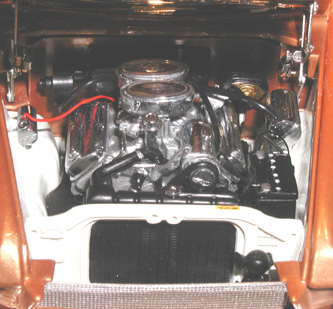 The latest in their "Rods & Customs" series, this Danbury Mint model is an eclectic blend of old, new and everything in between that can make a hot rod or custom so way-out cool. In the tradition of the DM '49 Lead Sled and '50 Merc Custom, this Chrysler will please your palate with old and modern customization practices of the cars we grew up with. It is not so much a 'period piece' as it is an interpretation of how a nostalgic custom could be redone to today's tasteful standard of custom elegance. Reminiscent of the 1950's era custom cars so many of us drooled over in the hot rod magazines, this 300C Custom is nosed, decked and features 'frenched-in' headlights. In tune with some of today's custom work, the door handles have been shaved presenting a slick and slinky look and begging the question as to whether or not remote electronics open the doors and trunk. No doubt those monster speakers filling the rear window shelf are from the 21st century, ear plugs anyone? And you just have to check out the spark plugs and wiring in the exhaust tips for that cherry flamethrower look when night falls on the boulevard cruise scene.
The 'in-the-weeds' look of the dropped front end and lowered rear gives meaning to the "Slammed" license plates this street renegade wears. Stir in some custom 18-inch wheels with low profile tires and you enhance that modern low-down look. The overall image of this radically long legged and svelte bombshell is purely fantastic and fit for a rod and custom show. The paint, as on every little Danbury masterpiece, is full of shine and a foot deep. It appears to be blended from tangerine and solid gold for a beautiful Sunset Bronze luster fitting of the end of a Kalifornia Kustom day. The Ivory top and matching side spears add just the right amount of contrast.
Outstanding details abound on this little jewel. The fuel door opens to reveal a well-defined gas cap. The doors have the premiere door hinges we all love so much. Opening them is more solid than before and offers a wonderful view of the Ivory interior with bronze-like plush carpeting. The interior is awash in detail from folding 60/40 front seats to photoetched "300" doorsills. Photoetch work also includes an air vent treatment, under the wipers and up front forming a custom wide-smile grille. A chassis view of the diecast affords a realistic look at the transmission cooling lines and the aforementioned flamethrower exhaust system. Through the wheels we can readily see the brake rotors turn within the well-detailed calipers. I can never get enough of the engine bay details that DM brings to the dance and there is nothing to disappoint on this muscle machine. Nestled into the ivory and bronze front opening is a chromed dual quad hemi of mystical Mopar proportions. Plumbed, wired and tampo-stickered to perfection, the only thing that may distract your engine envy are the scissor-spring hood hinges that DM seems to improve upon on each outing. As realistic as it is likely to get, the model lends itself to an open-hood display that will prove to be a 'show me' highlight of any collection.
Part #: DM1317M
Condition: Like New never Displayed Mint in the Box, w/ title
Price: 0.00
Status: SOLD! Thanks Tim