Danbury Mint / 1963 Corvette Coupe Pro Modified - Coca-Cola Edition / DM Discontinued / 1:24th Scale
Coke Red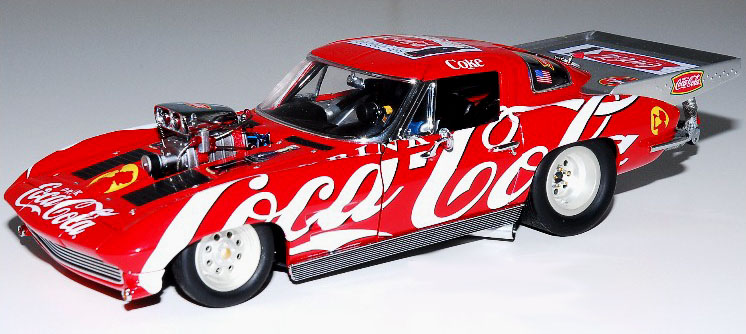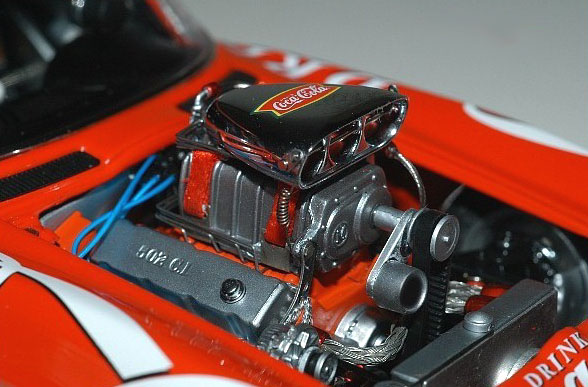 Images shown are file photos, if you would like pictures of the actual car for sale, call 800-227-7301 or email your request.
Danbury takes up where their fantastic screamin' yellow '57 Chevy Pro Street stopped and kicks this Vette up several notches unknown to mankind. There are big honkin' meats under the back end, straddling a heavy-duty racing differential highlighting the drastically narrowed rear axle. Whoa power comes from 4-wheel discs with rotors vented and drilled. Check out the giant stamped aluminum wing hanging off the tail, the twin drag 'chutes and the mono-wheelie bar. The superfast racing interior sports a full roll cage, aluminum floorpan and door panels. You will find prerequisite racing tub-seats with Simpson 5-point harnesses. A further check reveals twin batteries, a dash mounted tach w/over-rev light, a rightous nitrous-oxide tank ('natch) and a fire suppression system.
The lift-off hood, with miniature photo-etched Dzus clips, hides a completely new blown 502 cube big block. Some of the more incredible features include a cogged blower belt, braided hoses, a polished 'bug-catcher' air scoop poppin' through the hood with red anodized butterfly valves, and totally tricked-out and detailed throttle linkage. Also, check out the drilled bellcrank and throttle return spring! There's a new radiator with twin fans, coilovers on all four corners, dual side-exiting exhausts, factory authentic Silver Blue paint with a couple of tasty graphics. A no-extra cost addition is a cool little wheelstand bracket. A small transparent plastic block, it attaches to the oil pan to let you display the car with the front wheels up. Danbury's engineers are definitely 'car guys' and this fabulous effort shows that in spades racing fans. As Tim the Toolman Taylor used to say, "Aaarrrggghhh, more POWER!"
from the "Garden State Chevrolet" Danbury Mint Collection
The models in this collection are in mint condition. They were purchased directly from Danbury Mint, and then placed into airtight enclosed display units.

Adult owned from a pet-free & smoke-free household.

Since the models were properly displayed, the paint is glossy and rash-free.

Most models include title and/or care instructions.

The overall condition of the boxes is excellent to mint condition with no writing.

A comprehensive Danbury Mint Chevrolet collection of this magnitude and condition is very hard to find. Satisfaction Guaranteed!
Part #: DM1319M
Condition: Mint in the Box
Price: 0.00
Status: SOLD! Thanks William