Danbury Mint / 1932 Cadillac V-16 Fleetwood Sedan / DM DISCONTINUED / 1:24th Scale
Black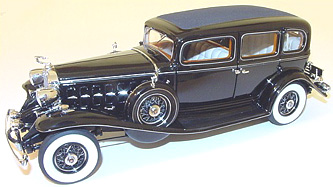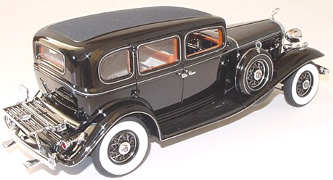 Scale 1:24; 9" in length.
The design gurus at Danbury told me that I cannot consider this as an all new tooling since they kept the venerable green 1932 Cadillac Phaeton's fenders and chassis, headlights, bumpers and engine. But one long look at this beauty and I'm still not sure if I'm convinced. We have an all-new presentation then, at the very least. The new body, a four-door sedan, is flawlessly painted in a stately and timeless black. This is the shiniest and brightest black I think I have ever seen on a model. Each side and rear window and the entire beltline of the car, from the long hood to the rear body, is trimmed in a finely delicate silver pinstripe. The door hinges, painted body color, blend perfectly into the coachwork. Up front, the winged Heron is gone in favor of the more classically traditional "Flying Lady" mascot. From here we go light years ahead of the older image. The engine is a whole other dimension in classic car diecast replication. We have 16 spark plug wires meeting at the top front of the engine and entering the distributor. Fuel lines and hoses are much more representative of today's precision model. So too, are the real wire wheels, delicate and fine as jewelers wire.
The top has a flocked material sprayed on to give the illusion of a fabric top without the possibility of peeling problems that a separate fabric piece may cause. The contrasting effect is excellent. Speaking of contrasting, the bottom of the carriage, beneath the spare tires, is flat black as it should be. It enhances the realistic look of the genuine car and compliments the gloss black finish wonderfully.
You will no longer see a trunk on the back of the model. I think it was a little awkward looking. Instead, DM treats us to a working luggage rack. It folds back toward the coachwork or you can fold it out and down to make a flat perch for a travel trunk. Open the four doors with the scaled door handles and you are rewarded with what may be the finest attribute of the model, the interior. The front doors are replicated with windows down, the rear with windows up. The seats and door panels are truly handsome in a light grey raised material that replicates a rich fabric cloth. The doors and dash are trimmed in a wood-like grain. The door handles, window cranks, dash gauges and driver's controls are elegantly fashioned. The rear features an operating footrest that can be in the user position or stored up near the rear seat. There are leather strap-handles that hang in the rear-most window. The pedals are metal and the driver's visor folds down.
Part #: DM1329M
Condition: Mint in the Box w/ title
Price: 0.00
Status: SOLD! Thanks David