Danbury Mint / 1959 Cadillac Coupe DeVille / Classic Cadillac Collection / 1:24th Scale
Turquoise Metallic w/ white roof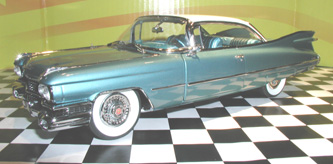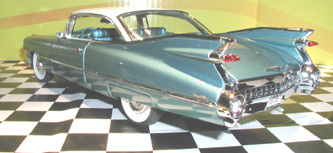 Click here for an unbelievable high resolution interior image. Step right on in!
Scale 1:24; 9 1/2" in length
At 20' in length, with huge fins and twin bullet headlights that gave it a futuristic look, the '59 Cadillac was a head turner. Even with its extravagance and enormous size (almost 4,750 lbs!), many leaped at the chance to flaunt the Coupe de Ville's over-the-top styling.
This model features open doors, hood, trunk and operating steering and suspension. It is NOT the old convertible with a roof. This beautiful Cadillac has been upgraded in many areas. The interior is probably the best reproduction I have ever seen. The "fabric' in the seats should be seen with a magnifying glass to be appreciated.
Part #: DM1333M
Condition: Like New Storage Find/Mint in the box w/ title & care instructions
Price: 0.00
Status: SOLD! Thanks Dan