Danbury Mint / 1969 Dodge Charger 500/426 Hemi / Limited Edition 5,000 / DM DISCONTINUED / 1:24th Scale
Hemi Orange Metallic w/ black bucket interior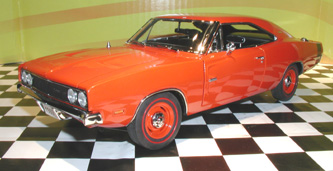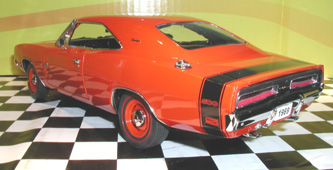 Wow. Retractable antenna, photo etched emblems, a deep finish metallic paint job that looks a foot deep, correct hood hinges with the best engine detail I've ever seen. You want more? You can read the gauges in the dash. The trunk has the correct mat PLUS, the back of the tail light housings are visible, just like the real thing. It had me looking for bulbs. Woodgrain trim in the interior, 4-speed console, seat belts, full carpeting. Mopar fans....wow.
from the "Dan King" Danbury Mint Collection
This collection was purchased directly from Danbury Mint and placed in storage. It appears that they were never removed from their original boxes, and never displayed.

The paint finish is like-new.

Some models include paperwork, some do not. See the description below.

Mint condition original boxes without any shelf wear.

Most models have door, hood & trunk protectors, interior foam blocks and protective tissue inside the styrofoam.

All photo-etched emblems are intact with protective acrylics.

Satisfaction guaranteed!
Part #: DM1341M
Condition: Mint in the Box, No Papers
Price: 0.00
Status: SOLD! Thanks Bob