Danbury Mint / 1948 Buick Roadmaster Coupe / DM DISCONTINUED / 1:24 Scale
Nickel Gray & Cumulus Gray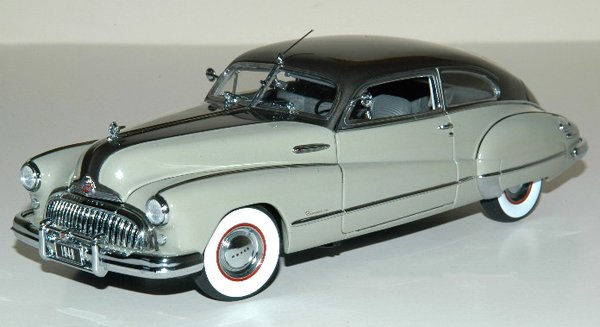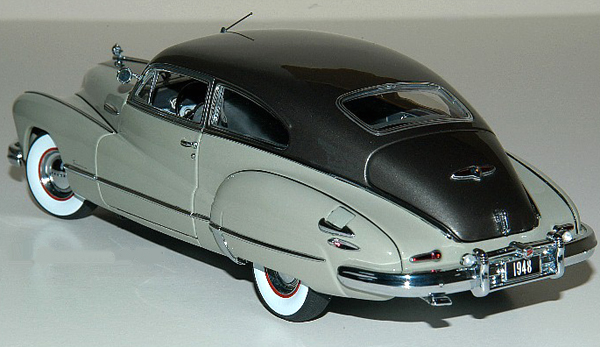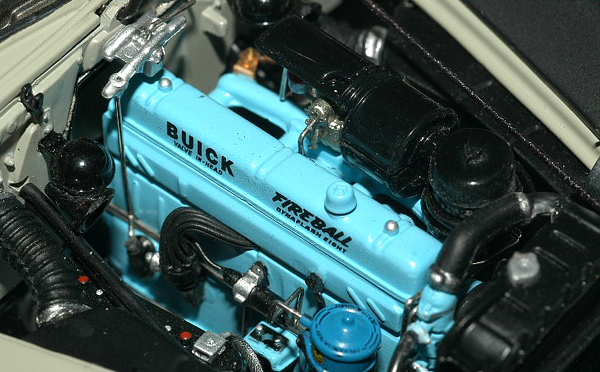 That elegant silhouette, front fenders, long and sleek, blending into the doors as they flow to the bubble-shaped rear fenders, highlights the teardrop shape of the car. The fit of every piece falls into perfect rhythm with this spectacular model. The doors swivel inward, when opened, revealing authentic looking internal hinges. They close tightly and align flawlessly. The same holds true for the trunk. But how did DM handle the hood? The real car had a unique hood that opened to the side; either side. Raise that mythical bar boys and girls, and wait until you see this. With a fingernail placed under the side marker of the hood, gently lift it. It will unsnap. Two spring steel holders unhinge to allow the hood to flip open. Close it again, with a snap, and you may do the same on the other side. The hood prop, mounted center on the firewall, pivots from either of two securing positions to hold the hood aloft. Awesome. Its operation may steal the engine bayís thunder; donít let it because thereís a chorus of magnificent detail lurking there. Vinyl hoses, metal fuel lines and absolutely phenomenal carb linkage help make the engine come to life. Battery cables and heater hoses and assorted wiring finish the job.
Last but not least, the underneath chassis view builds for us a crescendo of master model art that will totally astound you. There are metal transmission lines, minutely replicated springs, one for the emergency brakes, and outstanding suspension components. In fact, this is easily one of my favorite working suspensions ever. The front has actual coil springs that move up and down utilizing the movement of the entire A-frame system, lower and upper cradle arms. Rearward youíll see longer working springs that move in concert with the rear control arms and differential torsion link.
Part #: DM1374M
Condition: Like New Storage Find-Mint in the Box w/o title & care instructions
Price: 0.00
Status: SOLD!