Danbury Mint / 1969 Dodge Daytona 440 / DM DISCONTINUED / 1:24th Scale
Bright Green Metallic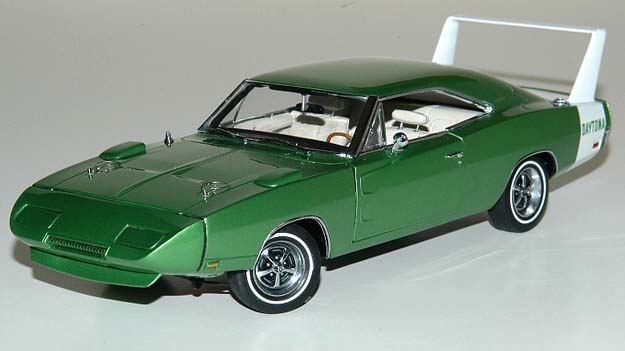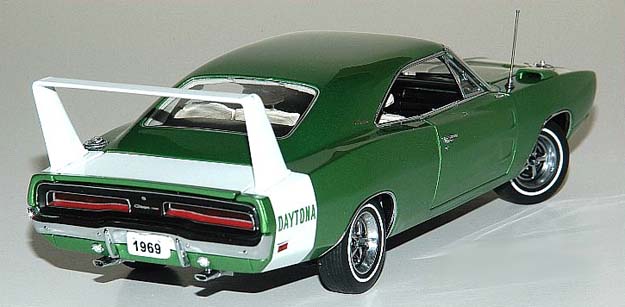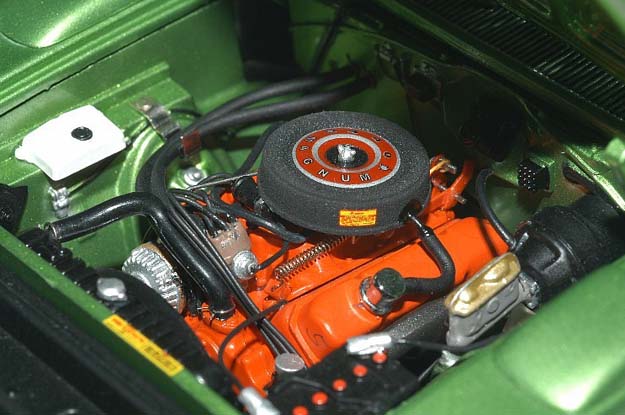 The white hemi-powered '69 Daytona, though a street-legal muscle car, was set up and fabricated to look more like the NASCAR race-prepped cars that ruled the oval tracks in the late sixties. This 440 version is more like what we probably see cruising the boulevards of our memories. Although still pretty rare, there were more of them made. NASCAR rules required 500 units of any car planning to be raced at Daytona be made available to the public, and in this case, Dodge issued 503. Of these, 433 were equipped with the 375 horse 440 cube motor while only 70 bore the 425 horse 426 cube hemispherical combustion chambered mill. They were only made for one year, 1969, and discontinued.
Bright, cheerful and exceptionally glossy, it has just a hint of metallic. Helping to make it 'pop', is the white interior and the focus-of-attention rear wing. Naturally everyone realized the wing's value as a down force providing tool but what the Dodge Boys didn't divulge was the invaluable contribution to stability at speed that the twin rudders, holding the top airfoil, provided.
Aside from the engine differences, this car comes with an automatic trans. The shifter resides in the beautifully fabricated wood grained console, while the dash and floor are done in black and the seats and side paneling is richly cloaked in brilliant white. Black fabric seat belts are seen fixed to the seats and shoulder belts are mounted on the roof. The front seatbacks tilt all the way forward providing access to the back seat. The proper pedals for the auto trans are fabricated and the steering wheel is correctly done in wood rim fashion with center horn hub. Outside, the 440 has an opening gas filler cap, chrome-foiled "Charger" script neatly adorning the roof sail panel and carried over from the Charger 500, a flush mounted, chrome trimmed rear window to aid in better aerodynamics. In true DM fashion, the antenna retracts into the front fender.
A tool is provided so that you may poke a button under the front bumper to open the quad headlights. The 440 Magnum motor is fully replicated utilizing materials of vinyl and rubber, wire and zinc. The heater hoses, their supports and miniature clamps, simply have to be seen in person to be fully appreciated. Check out the driver's side valve cover. Metal wires of small scale gauge replicate brake lines running downward to the chassis as well. Turn the model over, and you'll see that transmission fluid lines are in place along with bare metal torsion bar suspension arms. The front wheels articulate fully with the steering linkage. Rear suspension works on leaf springs and shocks. The wire mesh screening used beneath the front fender air scoops can be seen from below as well.
Part #: DM1393M
Condition:
Price: $0.00
Status: Out of Stock