Danbury Mint / 1966 Chevrolet Corvette Stingray 427 Coupe / DM DISCONTINUED / 1:24th Scale
Laguna Blue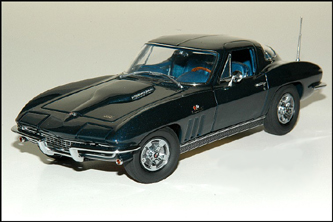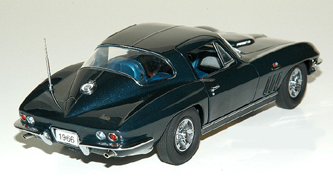 This was the first year of Corvette's famed big block 427. The one replicated here by DM is the RPO order code, L72, 427 cubic inches with 425 horsepower. It was simply called the "Turbo-Jet". Danbury chose a coupe for this model year. The color, Laguna Blue, is a deep, dark, slightly metallic paint that highlights the coupe's shape and style. With contrasting Bright Blue interior, the choice is excellent; especially in view of the fact that they are bringing out another 1966 'midyear' Corvette, a roadster in Ermine White.
DM built in all of the fabulous detail as they did with their '64 and '65 coupes. The antenna extends, the gas filler cap opens, the hood uses a telescoping prop rod and the chrome metal foiled emblems are beyond exquisite. The spinner caps show off a valve stem and the color contrast from chrome to the center gray is spot on. The spare may be removed from its carrier and the chassis is typically DM perfection. Interior-wise, the Danbury got it right again. The seats fold forward to showcase the gorgeous carpeted rear compartment. Fabric seat belts are seen between the seats with the buckle ends at the ready near the doors. The door jamb highlights a photo-etch striker plate and the sills are photo-etched as well. The gauges and console are fashioned well and the seats are lifelike in their material. The steering wheel looks like the 1:1 wood-rimmed version. The headlight pods flip up and the hood has photo-etched grilling on either side of the hood bulge. The plug wires seem to be better scaled than in thepast and the throttle linkage is evident on the big block. Hoses with proper clamps and brake lines make a wonderful under-the-hood presentation. All in all another Danbury Corvette masterpiece.
from the "James Dean" Danbury Mint Muscle Car Collection
This collection was purchased directly from Danbury Mint and placed in climate-controlled, spare room storage. Never removed from the original box, never displayed, dust-free.

The paint finish is like-new without any humidity-based paint rash.

All models include paperwork carefully filed in manila envelopes.

Mint condition original boxes, most without any writing or shelf wear.

Most models have door, hood & trunk protectors, interior foam blocks and protective tissue inside the styrofoam.

All photo-etched emblems are intact with protective acrylics.

We proudly present this exceptional muscle car collection to you, Satisfaction Guaranteed! We're confident that once you purchase one, you'll want to come back for more!
Part #: DM1395M
Condition: Mint in the Box w/ Papers
Price: 0.00
Status: SOLD! Thanks Kevin