Danbury Mint / 1955 Corvette Roadster / 50th Anniversary Limited Edition / DM DISCONTINUED / 1:24th Scale
Gypsy Red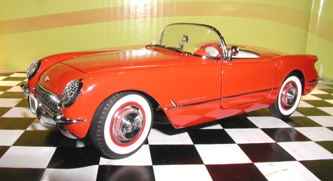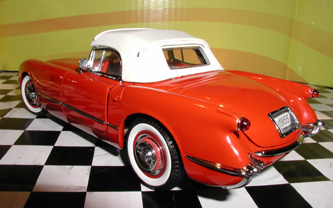 Click here for super-size interior & engine image.
When I took this model out of the box for pictures, the first thing that came to mind was how Danbury has left their competition in the dust. These models are getting as close to works of art as you can get at these prices. Fabric covered top with removable chrome-framed side curtains are a nice touch. Another Danbury Corvette winner!
Those of you who missed out on the Harvest Gold version, here's another chance with this stunning red 1955 Corvette..the first with a V-8, 265 cu in. Production will end on 12/31/05 so there's no guarantee that Danbury will produce the usual advertised 5,000 units ( That's why the Harvest Gold went so fast. My sources told me there's no way that 5,000 were produced.)
from "Nikki's Orlando" Danbury Mint Collection
The Danbury Mint diecast cars in this collection were purchased directly from Danbury Mint and immediately placed into storage in Virginia where the models spent most of their life, until relocating to Florida. Most models were never removed from their styrofoam.

The paint finish is glossy, like-new. Vinny's Used Cars will offer those models with mild paint rash.

Most of the models have their original packing material and acrylic protectors.

Most models include papers. See the description below.

The original outside boxes are in very good condition with black marker writing.
Part #: DM1398M
Condition: Mint in the Box w/ Papers
Price: $135.00
ClearancePrice: $108.00 (Save 20%)
Status: In Stock