Danbury Mint / 1968 Dodge Charger - "Bullitt" / 1:24th Scale
Black fiancé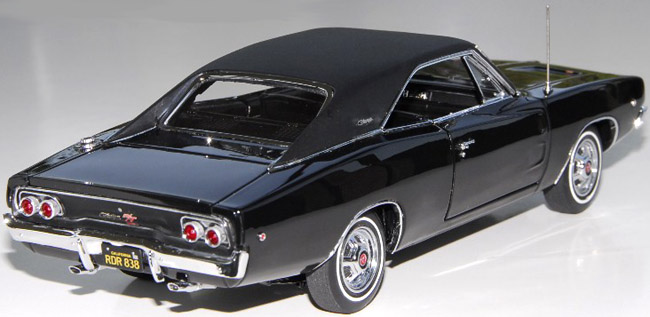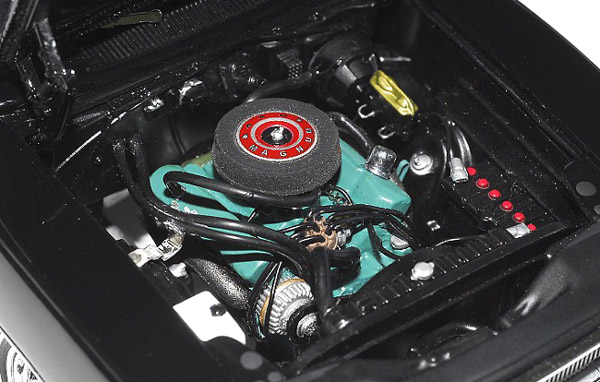 Once again, DM had to do diligent research to render a car that was used and modified for its role in the movie. The film representation is what we see here. In the rich tradition of DM Dodges, this is only their second 1968 iteration. We have '69's to suit most pallets but one '68, the "Christine" Charger. As movie cars go, I love Christine the Plymouth, but on the subject of Dodge's I think I'll take the black Bullitt chase car. It typifies 'bad'. Warner Brothers® bought two 1968 Dodge Chargers for the movie, both four-speeds. They came from a Chrysler dealership in Glendale, CA. The man responsible for maintenance on all of the star cars, Max Balchowsky, traded Ford's carburetor for a Holley making the Mustang run better. But he later remarked that he, "Hardly did anything to the Charger's engine." The suspension, however, was beefed up a bit.

DM took their flawless little tooling and made it triple black; a black body, black interior and black vinyl roof. About the only things not black are the engine, steering wheel, trunk mat, whitewalls and the wheelcovers. How many of those wheelcovers did the big Dodge lose in that chase scene? Most fans count 6! All four are accounted for here. Even after some time, Danbury's Charger still looks magnificent. The trunk has fine detail, removable spare, visible jack and jacking instruction sticker. The working suspension is flawless; the rear operating on leaf springs and functioning shocks while the front assembly features an entire articulating cradle assembly on either side. The torsion arms and anti-sway bars are operational. Interior detailing is DM-dramatic! The seats are handsomely crafted in fine detail. Belts and buckle ends and dash and gauges detailing is perfect. The seats fold forward and doorsills are photo-etched.
from the "Williams Estate" Danbury Mint Collection
The models in this collection are in excellent to near-mint condition. They were purchased directly from Danbury Mint and other secondary sources, then placed into enclosed display units. We needed to perform light detailing on some models to make them showroom ready.

Adult owned from a pet-free & smoke-free household.

Since the models were properly displayed, the paint is glossy and virtually rash-free.

Most models did not include titles or care instructions, but we'll include them if we have them in our library.

The overall condition of the boxes is fair condition for older releases, and excellent to mint condition on newer releases.

Priced to sell, satisfaction guaranteed!
Part #: DM1532M
Condition: Mint in the Box, No Papers
Price: 0.00
Status: SOLD!