Danbury Mint / 1957 Cadillac Eldorado Seville / Limited Edition / 1:24th Scale
Green w/ White Top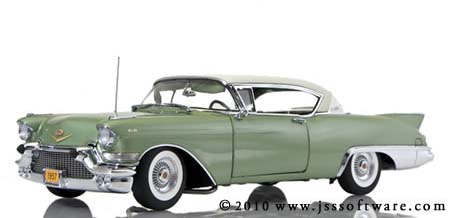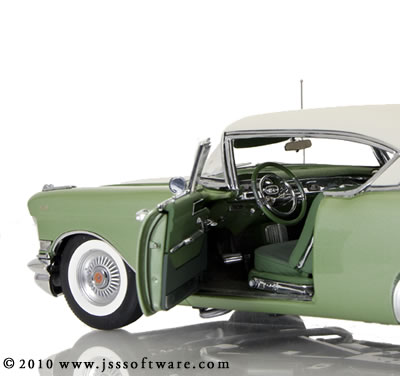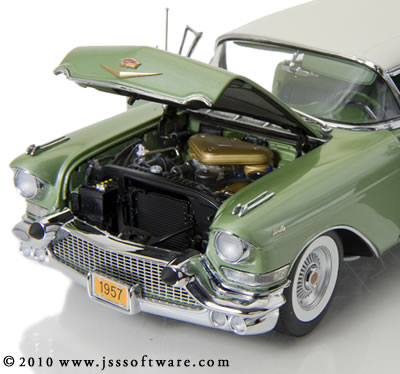 Scale 1:24; 9 1/2" in length.
In 1957, Cadillac fully intended to establish itself as not only the premier luxury marquee in America, but also as the "Standard of the World". Its entire line was restyled with a chic dynamism that was sexy yet sophisticated. Nowhere did this effort pay more dividends, than on the glamorous two-door hardtop of the group, the Eldorado Seville - a true symbol of an era when automotive design was vital, unique and elegant. This is a die-cast replica to enjoy!
from the "Ann's Like New" Danbury Mint Collection
This collection was purchased directly from Danbury Mint and placed in climate-controlled, spare room storage. Never removed from the original box, never displayed.

The paint finish is like-new without any paint rash.

Some models include paperwork, some do not. See the description below.

Mint condition, pristine original boxes without any writing or shelf wear.

Most models have door, hood & trunk protectors, interior foam blocks and protective tissue inside the styrofoam.

All photo-etched emblems are intact with protective acrylics.

This collection is as close as you can get to buying directly from the Danbury Mint if they were still producing models today.

Part #: DM1639M
Condition: Like New Storage Find / Mint in the Box w/ Care Instructions
Price: $435.00
ClearancePrice: $375.00
Status: In Stock