Danbury Mint / 1953 Corvette EX 122 Concept / Limited Edition / 1:24th Scale
White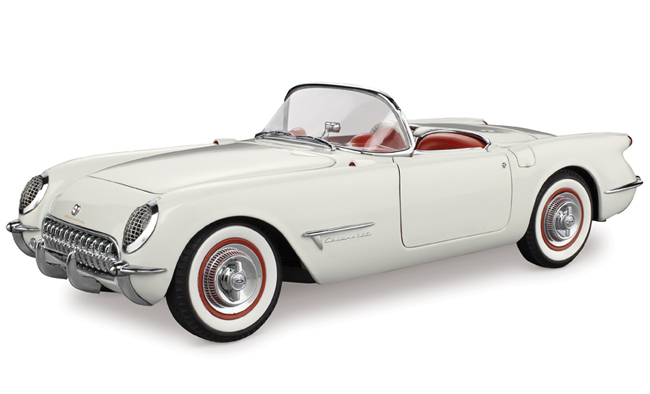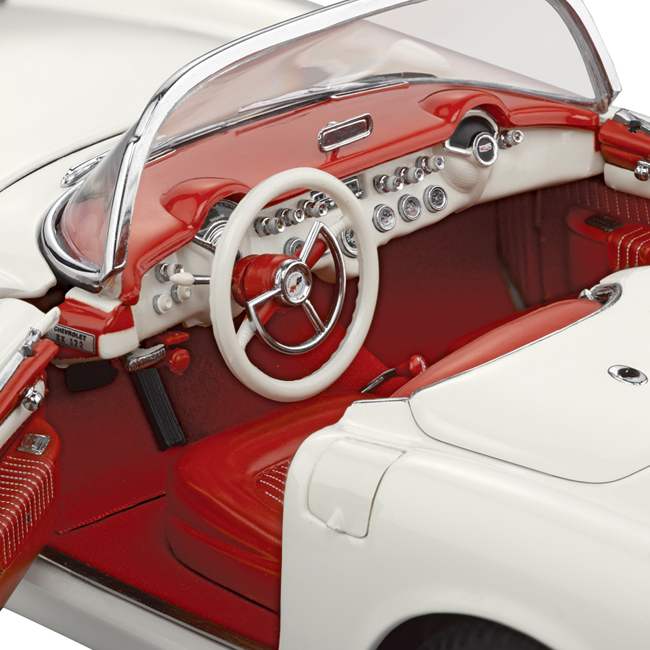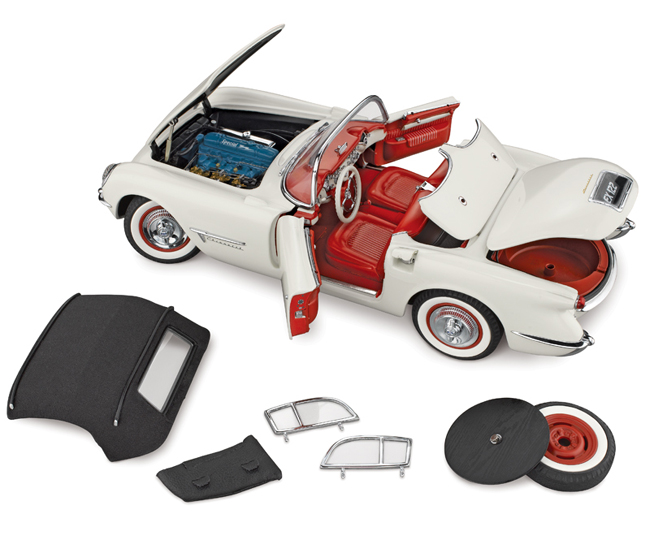 Scale 1:24; 8" in length.
A historic replica of the world-famous Corvette concept car...a die-cast first!
The automotive world changed forever the moment the 1953 GM Motorama opened its doors at New York's Waldorf Astoria hotel. For the first time, the public could lay eyes on the EX 122 Corvette Concept, a sporty two-seater that boasted an innovative design with graceful, sweeping lines that simply screamed speed and style. Of course, this new concept car backed up its promise of power with the now famous 150hp Blue Flame engine. The demand was immediate and intense, and shortly after the Motorama ended, the first production Corvette rolled off the assembly line…a legend was born!
This magnificent Limited Edition EX 122 Corvette Concept replica is expertly crafted in 1:24 scale and is absolutely faithful to the Motorama show car that wowed the crowd at the Waldorf Astoria. Our designers worked closely with the folks at Kerbeck Chevrolet in Atlantic City, NJ, where the EX 122 concept car now resides, to make sure every minute detail was accurately depicted on our model.
You'll be thrilled when you see this model for the first time and take in all the details – both big and small – that differentiated it from standard 1953 Corvettes. The shortened side trim and smooth, mirror-less profile begs you to dive right into the customized interior - and don't miss the "EX-122" plaque on the driver's side door jamb. Its upholstered seats and side panels instantly set it apart, while the dashboard is overflowing with dials and gauges. With control knobs on and under the dash and a floor-mounted shift lever, this concept was all about being a "sports car." The twin scoops on the front fenders, "hinged" stone guard screens on the headlights, rocket-shaped taillight housings and simulated "knock off" wheel covers (with spinners rotated 90 degrees from the Bow Tie emblem in the center cap) merely hinted at the speed that this wonder could reach.
from "Barry's Empire State" Danbury Mint Collection
This collection was purchased directly from The Danbury Mint, opened for inspection only. Most original tissue and packing materials are intact. The models were then stored in his climate-controlled spare room.

Tier 1 condition - New Old Stock (NOS Mint in the Box)

Like-new paint as delivered from Danbury Mint.

Includes Title and/or Care Instructions.

Excellent-good condition original boxes.

This is a well cared for Danbury Mint collection. Satisfaction Guaranteed!
Part #: DM1648M

Condition: Mint in the Box

Price: $149.

00

Status: In Stock