Danbury Mint / 1969 Ford Mustang Boss 429 / DM DISCONTINUED / 1:24th Scale
Black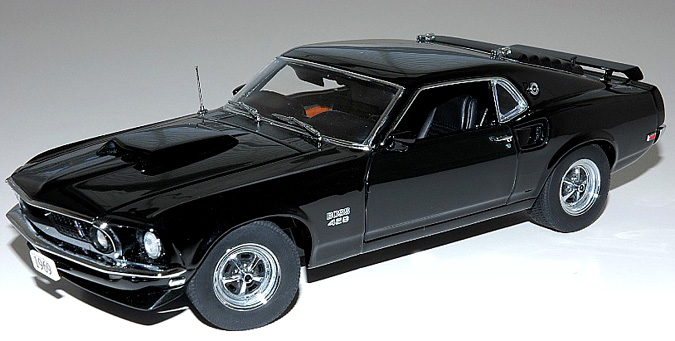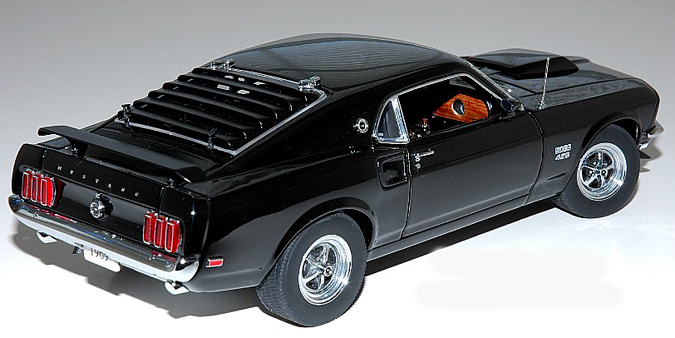 "Bad" has a new definition. It has been redefined by Danbury Mint's design team. Take one part legendary muscle car, stir in a Raven black 1969 Detroit Iron-style attitude, mix in one part functionality and one part extraordinary detail and you just whipped up the latest Super Star diecast to come out of Norwalk, CT. To my eye this is easily the best looking 'Boss' Mustang of the era. The air scoops behind each door, the jet black tires and massive hood intake set the car off as an improvement over the Boss 302. Hockey stick side stripes need not apply.
Up front we have the grand attraction, all 429 cubic inches of, 'in your face' tough guy muscle. Open the hood and you see the coolest hood latches, complete with itsy-bitsy springs. Wires, fuel lines, hoses, lions and tigers and bears, oh my! The air filter and valve cover stickers and perfectly detailed radiator cap must be seen in person to be fully appreciated. The miniature detail is simply astounding. The antenna raises, the rear window louvers open and the suspension works. By the way, even so equipped, the ride height is perfect. One look at said suspension reveals that DM did their home work. The front cradle arms, torsion bars and steering rods are replicated flawlessly and move realistically. The rear features slim torsion bars and opposing shocks (in the proper white).
The trunk has the wired battery visible, small spare, perfectly miniaturized stickers and the trunk lid edge boasts chrome foil letters spelling out, "Mustang". Opening the doors, you'll find the famous DM hidden hinges, no canine appendages here, minute window cranks and fabulously detailed interior. The wood replication here is amazing. The seats fold forward and the visors actually fold down from the interior roof. Side markers, in white and red, are separately molded pieces, not decals. And the, "BOSS 429" script is tampo'ed to perfection. If you hunger for a sleek, beautifully fit and finished muscle car model, or just crave diecast art at its finest, DM has your recipe.
from the "Montana Gold " Danbury Mint Collection
This storage find was purchased directly from Danbury Mint & all boxes were opened for inspection only, most never removed from their styrofoam.

They were then stored in dry Montana. Most were never displayed! Read details on condition below.

Original tissue & protective packing materials are intact on most models.

All models I inspected are Tier 1 or Tier 2 condition, a few with minor rash. Read details on condition below.

Since the models were properly stored the paint is glossy, dust free, like-new.

Most models include title & care instructions.

Mint condition original white boxes with no writing on box.

Tru-Mint Guaranteed or Your Money Refunded! Free return label if not completely satisfied. MGDM
23Part #: DM1322M
Condition: Mint in the Box w/title
Price: 120.00
Status: In Stock