Danbury Mint / 1956 Packard Caribbean Convertible / Limited Edition 5,000 / 1:24th Scale
Black/Naples Orange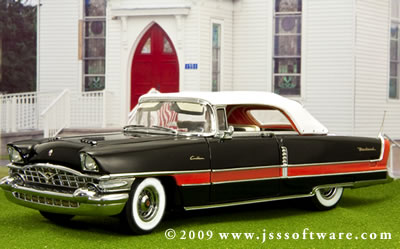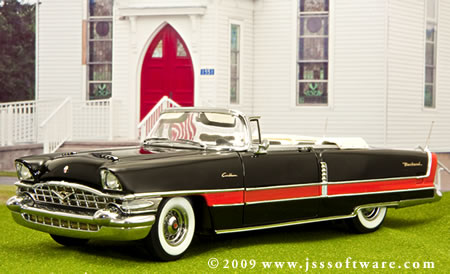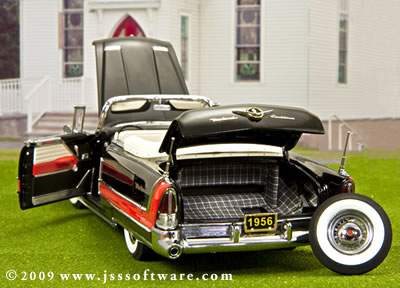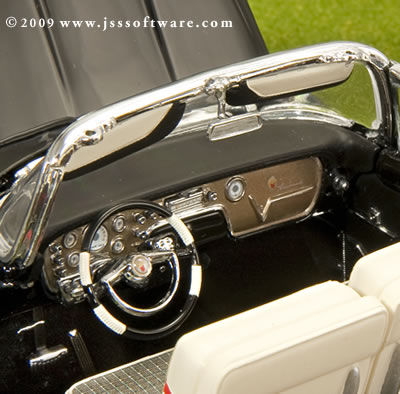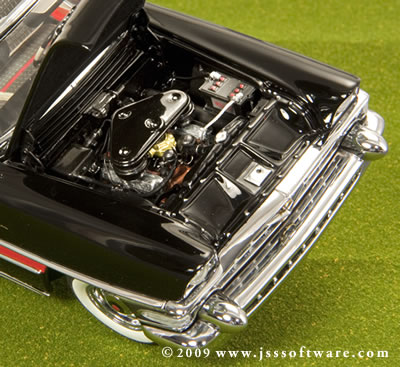 If you love your Packard's then you will absolutely love this '56 Caribbean from the Danbury Mint, I promise. The Packard Convertible is similar to its older sibling and includes the magnetic seat cushions, which can be displayed using either side. Personally I prefer the model presented with the top down but if you like to display them top up from time to time you can; it comes with both a boot and up top. You really will be impressed with the Danbury Mint Packard; it has it all. I kid you not from the interior to under the hood you won't be disappointed. The Danbury Mint '56 Packard needs to be on your short list of must haves because this one will be gone before you know it.
from "Nikki's Orlando" Danbury Mint Collection
The Danbury Mint diecast cars in this collection were purchased directly from Danbury Mint and immediately placed into storage in Virginia where the models spent most of their life, until relocating to Florida. Most models were never removed from their styrofoam.

The paint finish is glossy, like-new. Vinny's Used Cars will offer those models with moderate to severe paint rash.

Most of the models have their original packing material and acrylic protectors.

Most models include papers. See the description below.

The original outside boxes are in very good condition with black marker writing.
Part #: DM1587M
Condition: Mint in the Box w/ Papers
Price: 0.00
Status: SOLD! Thanks Robert