Danbury Mint / 1966 Ford Mustang Hardtop / 1:24th Scale
Arcadian Blue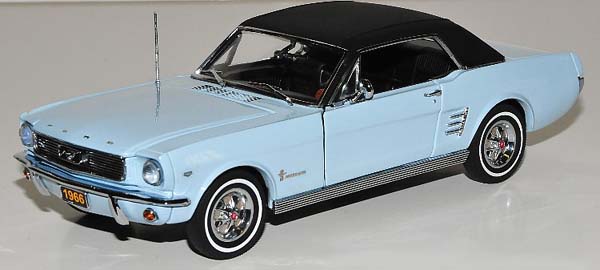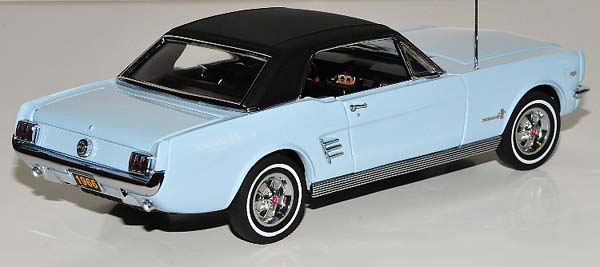 Scale 1:24; 7-1/2" in length.
The Arcadian Blue Mustang is a repaint of the old burgundy replica, which was first introduced around 1995.
Although this is an old tool the Danbury Mint did upgrade it somewhat. Chrome foil badging was added to the exterior, giving it some pop or "Bling" as I like to call it.
These Pony cars weren't known for their room — either interior or trunk area. This was not a family car, but a second car, for the wife to run errands with. The interior is nicely detailed with an instrument cluster that is fully readable. The steering wheel, however, sits just about on the seat which I found distracting. The engine has been updated with much better detail too. Overall the Danbury Mint 1966 Ford Mustang is a very well done replica that would fit nicely in any collection, especially if you are a Mustang collector.
from "Ed's FoMoCo" Danbury & Franklin Mint Collection
The models in this exclusive Ford Motor Company collection were purchased directly from the Mints and placed into Danbury Mint 6 & 12 car enclosed display units, virtually airtight. They were adult owned from a pet-free & smoke-free household.

Since the models were properly displayed, the paint is virtually free of any humidity based rash.

Most models include papers (see below for exactly what is included).

The original boxes were properly stored and are in excellent to mint condition. Most FM boxes are bright white without postage.

Mint condition, beautiful paint, ready to display. Satisfaction Guaranteed!
Part #: DM1605M
Condition: Mint in the Box w/ Papers
Price: 0.00
Status: SOLD! Thanks Robert