Danbury Mint / 1932 Ford McMullen Roadster / Limited Edition / 1:24th Scale
Black w/ Flames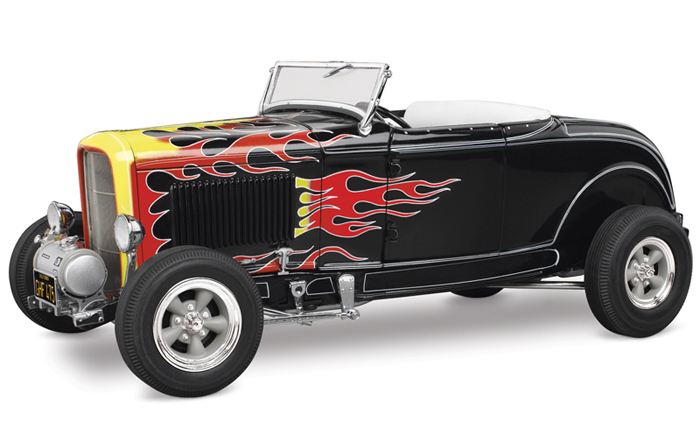 Scale 1:24; 6-1/4" in length.
Proud to introduce from the Danbury Mint is the Limited Edition McMullen Roadster, a perfect 1:24 scale replication of Tom McMullen's roadster exactly as it appeared on the cover of Hot Rod. This brand new replica captures every detail of the stunning '32 Highboy. Production of this amazing model will take place this year only and this one-of-a-kind tribute to a truly historic hot rod will be gone before you know it!

Just like the hard work Tom McMullen put into this hot rod, our design team made sure even the smallest details were captured in our replica. Whether you want to peek inside to admire the black and white two-tone interior or turn the model over to view the fuel line connecting the moon tank to the engine, you will be amazed by the wealth of amazing details.

Open either side of the louvered hood to examine the race-ready engine. The '62 Chevy 327 cubic inch engine is perfectly captured, from the 4-71 GMC blower to the dual carbs and louvered air cleaners...its all there. We gave the exterior just as much attention...the black body has a showroom shine, and the yellow and red flames seem to pop off the paint. The pinstriping is the crowning touch. The suspension components, moon tank, and even the license plate are authentically replicated too.
Part #: DM1649M
Condition: Mint in the Box
Price: $0.00
Status: Out of Stock