Danbury Mint / 1965 Ford Thunderbird Convertible / 1:24th Scale
Diamond Blue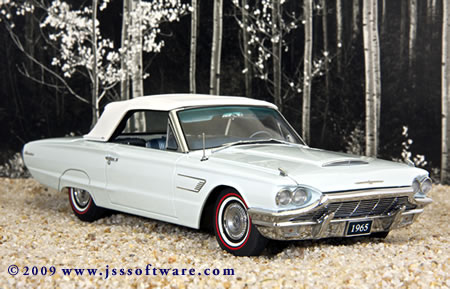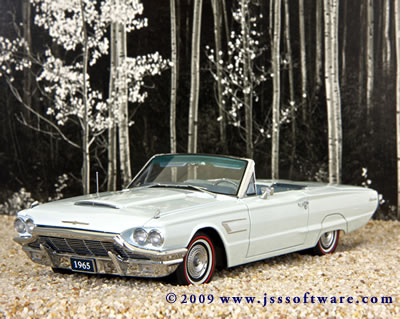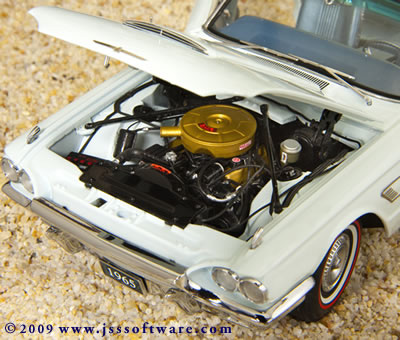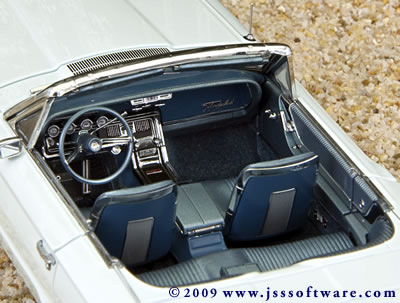 "The private world of Thunderbird, " as the ad called it, awaits you in the interior. You'll find the deeply sculpted dash a joy with its legible speedometer, quartet of circular instrument pods, and even the air conditioner! For a special touch, the steering wheel swings away for entry yet still operates the front wheels. The full-length console flows between the thin-shell buckets, complete with tilting backs, to the curved, lounge-like back cabin. Finished in soft pale blue, it's a designer's dream and an engineering marvel in miniature, right down to the pivoting sunvisors! For the ultimate sun protection, tilt the trunk-lid up, fold the hard tonneau panel underneath, and install the included white up-top!

When you close the doors and open the hood you'll find the respected Ford 390 cubic inch V-8. Its 300hp allowed the Thunderbird to surge down the road with authority, yet it coddled the car's occupants with its silkiness. Every nuance of the engineers' art has been captured for you in the 1965 Ford Thunderbird Convertible.
Part #: DM1800M
Condition:
Price: $0.00
Status: SOLD! Thanks Frank!