Danbury Mint & Highway 61 / 1966 Plymouth "Hemi Under Glass" Cuda / Signed by Bob Riggle / 1:18th Scale
Gold & Black w/ Graphics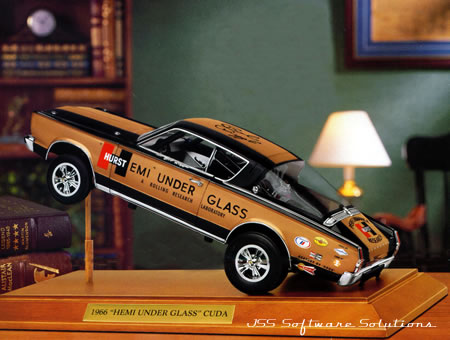 Remove the rear glass window to examine the massive 1,500 horsepower Hemi engine. The fuel-injected 426 Hemi race engine is fully plumbed and wired, and is completely true to the original. With the hood removed, you can see the Plexiglas view panel built into the firewall below the dash that Riggle use to see the track while doing wheelies.
It was an awesome sight -- a car with its front wheels eight feet in the air screaming down the track leaving a shower of sparks behind it!
Now, through a special arrangement with Highway 61, the Danbury Mint is pleased to offer an extraordinary, precision 1:18 scale die-cast metal replica of this famous exhibition racer, personally signed by Bob Riggle himself!
Part #: DM50092M
Condition:
Price: $0.00
Status: Out of Stock