Danbury Mint / 1948 Tucker "Tin Goose" - Prototype / DM DISCONTINUED / 1:24th Scale
Maroon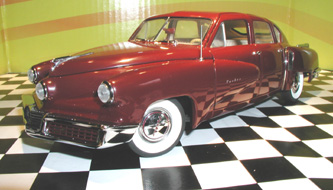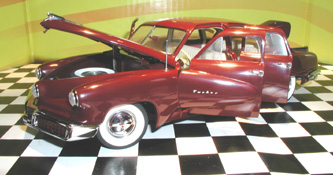 The "Tin Goose" Tucker, the nickname for the prototype varied considerably from the 51 production 1:1 cars and DM captured it. The most noticeable difference is the front-hinged rear doors on the "Goose". Upon closer examination of this replica, you'll notice that the engine compartment lid is just the lower portion of the roofline whereas the production version opening is much wider and meeting the rear grille. Other changes are the gas filler door, now operable and in the rear fender, a shallower windshield, repositioned wipers, altered front bumper and chrome rear fender welting. Danbury's details include an excellent dashboard, a hood latch release cable, a throttle return spring and wired. The doors hinges are incredible. The chassis detail is fantastic as well. There are cables for the brakes, etc. Under the hood..(trunk) there is even a cable to represent the internal hood release. The usual DM features are there, the antenna goes up & down, the gas filler opens. . Bell helicopter engine ( was it from a model 47?), all brake cables, correct opening front hood, etc. This is another outstanding effort by Danbury Mint.
from the "Danbury Mint Originals" Collection
The models in this collection are in mint condition. They were purchased directly from Danbury Mint. Some were placed into enclosed display units, and the others were placed in storage and never displayed.

Adult owned from a pet-free & smoke-free household.

Since the models were properly displayed or stored, the paint is glossy and rash-free.

Some models did not include titles or care instructions, but we'll include them if we have them in our library. See description below for what is included.

The overall condition of the boxes is good to very good condition for older releases, and excellent to mint condition on newer releases.

Priced to sell, satisfaction guaranteed!
Part #: DM1302M
Condition:
Price: $0.00
Status: SOLD! Thanks Gary!