Danbury Mint / 1950 Studebaker Champion Convertible / DM DISCONTINUED / 1:24th Scale
Steel Mist Metallic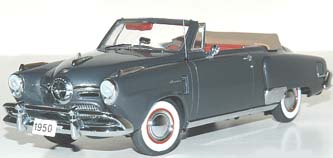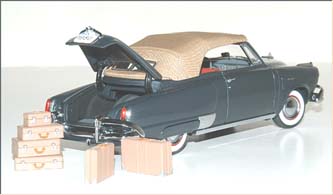 In 1950 the Studebakers were said to be, "The Next Look" in cars. With their "bullet nose", designed by Bob Bourke, they were advertised as, "The cars that will amaze America."
Obviously an all-new tooling, this base unit offers many possibilities. This convertible version is stunning. The model sits on working suspension. The entire cradle arm and steering connector rods move as the suspension functions, yet the wheel and tire itself, as with real cars, stays at perfect caster and camber. When you look underneath, be sure to capture all of the finery there. Emergency brake cables, fuel lines and realistically fashioned exhaust coloration, ending with a chrome tip and splitter. The tapered tail features lots of chrome, plastic back-up lights in white and tail lamps in red. The trunk contains a fixed jack and removable spare. The gas filler door opens upward and slightly into the body revealing a detailed gas cap. While I'm at it, I'll mention that, yes, the doors are on hidden hinges, opening inward at the front like the real McCoy. The fender skirts may be left on or removed. The seats tilt forward, the visors move and the window cranks, dash and steering wheel are all beautifully fashioned in perfect miniature. The center hub of the steering wheel features a perfect Studie's logo emblem and the turn signal arm and column shifter are finished nicely. The proper dimmer switch and flawlessly detailed foot pedals are seen on the carpeted floorboards.
The antenna on this model is operational. The wipers, separately molded. The side vents, just behind the chrome-foiled, "Champion" insignias, open and close. Looking downward to the wheels you'll note the red wheel rims peering out between the wide whites and the chrome wheel covers, complete with miniature valve stem. The chrome trim surrounding the bullet nose has, "Studebaker" is beneath the properly imbedded Studebaker emblem and clear plastic gunner's sight hood ornament. The hood springs are something special. The ones on this model are even more innovative and totally realistic beyond anything I've yet seen. They are exactly like the 1:1's scissors hinges complete with functioning springs. The hood has a prop rod that holds the hood up.As the hood opens it carries the under-hood light wiring with it. The inline six is delicately wired and the engine is plumbed to perfection. Miniature labeling is astonishing in scale and placed correctly. You may not be able to read the air cleaner due to its small size but you can read the battery's side label.
DM spent a lot of time on the fabric-covered top. All the accoutrements are in place, front chromed fasteners, metal rivets and two rear welt lines. I give DM a heavy dose of praise for modeling this subject and a well deserved rating of 5 out of 5 stars!
Part #: DM1345M
Condition:
Price: $0.00
Status: SOLD! Thanks Bob!