Danbury Mint / 1955 Oldsmobile Super 88 Holiday Coupe / DM DISCONTINUED / Limited Edition 5,000 / 1:24th Scale
Coral & Beige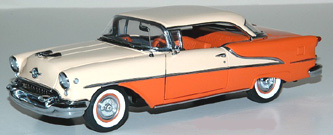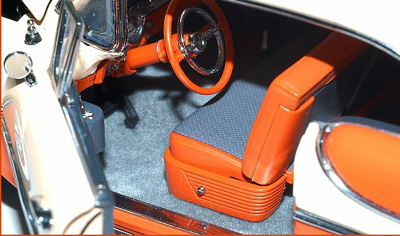 In high school (Class of '65) a number of us teens drove fifties cars. We 'hung out' at a specific corner where we, car guys, loved to display our 'wheels'. Gas money was in short supply so driving them was a special, separate event. Mostly an eclectic blend of bits and pieces fashioned into rolling junk, our hot rods were many and varied. At 16, in 1963, I drove a "souped up" black and white '57 Ford Fairlane 500. I felt like royalty, owning that nice a car, until the evening a young man drove up to the corner in this exact '55 Olds. It was what I would term today as a 100 point car; it was an eight year old vehicle but absolutely perfect! None of us knew the driver. He parked and went into the store for a pack of smokes. It gave us time to reconnoiter his ride up close and especially the colors it was painted. Our remarks to each other were cynical but deep inside we all lusted after the car that called more attention to it than our rat rods, held together with baling wire and bubblegum, ever could. By class time next day we all somehow managed to know the names of that car's colors; Shell Beige and Coral. I doubt that any of us ever forgot the car that insulted our heaps but stole our hearts that night.
So once again, it's all about color choices. And once again it is Danbury Mint that hits the bullseye in picking the perfect period colors for the right selection of car. A revision and update of their crowd pleasing '55 Super 88 convertible, DM's Holiday Coupe was long overdue. Even though the image is based in somewhat older technology, the model is a breath of fresh air. Add the updates and everything old is new again. There is additional wiring in the already nice engine bay, complete with dense rubber padding to simulate the under-hood insulation. More battery detailing has been added and other features are carried over to bring the Olds to today's standards. The suspension is a mix of working coil springs up front and flexible leaf springs and working shocks in the rear. All of the Oldsmobile emblems are highly defined and distinct and the photo-etched "Oldsmobile" script in the grille continues to be state of the art. The antenna raises and lowers. The trunk is replicated with realistic floor matting material and the tire is formed with the jack stand located behind it. The interior is purely outstanding. Like the Fiesta spinner wheel cover clad wheels, the interior is correctly done in Coral. The contrasting interior color is charcoal and it works beautifully. The charcoal carpets are finely textured and the seating surfaces are charcoal as well. But look closely at them to see the white dot pattern within. The dash is resplendent in detail with readable gauges and the wheel and pedals are fashioned grandly. The seatbacks flip forward and the headliner's chrome ribbing built onto the new coupe roof was not overlooked. The door panels have scaled window cranks and levers and tiny lock buttons. The overall stance, build quality and paint finish of the car is second to none.
If you desire a lovely car model that will stand out in your collection, do not overlook this offering. And if you're that Lucky Strike-smoking guy, from that night back in 1963, I finally got your car. Subject-wise and color choice-wise, DM scores a 9.8 on my Thrillometer for this rendition of the Holiday Coupe.
Part #: DM1394M
Condition:
Price: $0.00
Status: SOLD! Thanks Gary!