Danbury Mint / 1956 Lincoln Premiere / DM DISCONTINUED / 1:24th Scale
Island Coral & White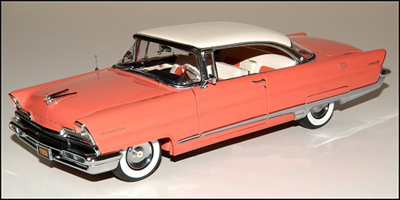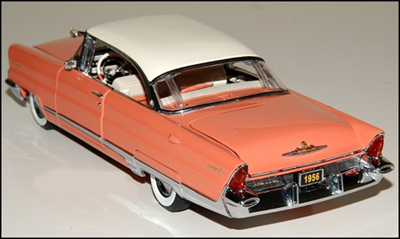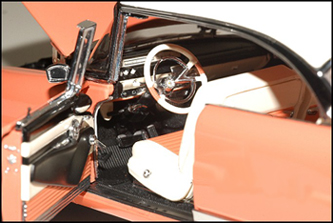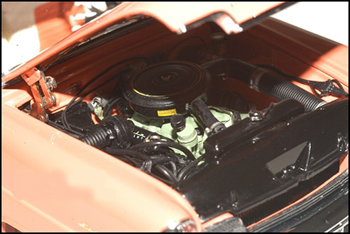 Scale 1:24, 9 1/2" in length.
This week we are looking at the new DM 1956 Lincoln Premiere. On something as nice as this one where do we start? Lets take a look at the undercarriage and let me say this is one of DM finest examples of detail work on the down side that I can remember. They have detail under here that I don't even know what some of it is, but its Great all the cables, fuel lines, brakes and so on. They even gave us the U-bolts to hold the leaf springs in place. Although I don't see any nuts holding these in place.
Now on to the engine compartment. Check out this Lincolns big V-8 with DM's scissors hinges holding the hood open, metal fuel lines, the windshield washer system is evident and so is its fluid lines and pump mechanism. The master cylinder is plumbed and ready for action and the radiator sports an overflow tube while the heater hoses, plug wires and vacuum lines look great as only DM can do. Now last but far from least check out the scaled dipstick with photo-etch metal ring.
On to the interior and trunk. I love the color combo on the interior as well as the center arm rest in the back seat that you can move up & down as well as the sun-visors. Only distraction I can see is the arm rest on the front doors aren't as sharp in detail as they could be. And don't forget what looks to me to be a tinted windshield. And in the trunk we have that fabric that makes your eyes do tricky things. Removable spare tire with tire jack and instruction decal on the trunk lid. And while we are back here check out the gas cap behind the license plate. All I can say is, (and lets not forget that I'm not what you would really call a Ford guy) that I believe this one ranks right up there with the best of them. Right along side the 48 Buick and 58 Pontiac for all out detail and size. Now this is what I call a "Land Yacht".
Part #: DM1439M
Condition: Mint in the Box, w/ color ad
Price: 0.00
Status: SOLD! Thanks Tom