Danbury Mint / 1958 Pontiac Bonneville Coupe / Limited Edition 5,000 / 1:24th Scale
Burma Green & Calypso Green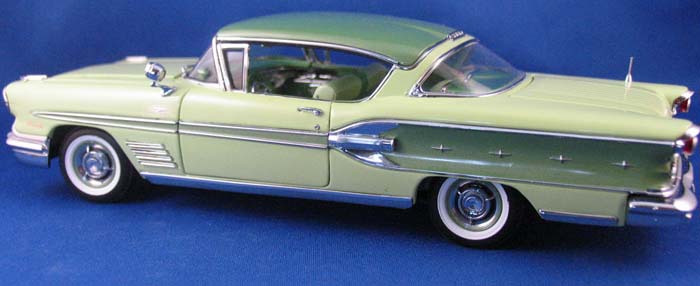 1958. Head Designer Harley Earl's last year at General Motors before Bill Mitchell took over the reins. Boy, did he like rockets, they're all over this design. This '58 Pontiac is one of the finest model Danbury has ever made and one of the hardest to find. The color combination of Burma and Calypso Green, this car is so full of features. This is a fully dressed cruiser has working suspension precision engine detailing with all the correct labels lines and hoses under hood. Then there are the famous "Bonneville Spinner" wheel covers, replicated with the "Pontiac" lettering. There are even valve stems on the wheels. Underneath there are metal brake lines and a fuel line running from the gas tank to the front of the car. Much attention was paid to the trunk area too including the replicated trunk latch.
The interior is workmanship replicated of GM Trim of Livonia.
This model is in mint condition, satisfaction guaranteed. It still has the acrylic protection on the metal foil emblems. It
comes packed in the Styrofoam Liner and Outer Box. Paperwork includes the Certificate of Title and Care & Use Instructions. A rare and very hard to find Danbury Mint model, these were only available to those that purchased their other Bonnevilles. A sure bet as an
investment grade diecast collectible!
from the "Ann's Like New" Danbury Mint Collection
This collection was purchased directly from Danbury Mint and placed in climate-controlled, spare room storage. Never removed from the original box, never displayed.

The paint finish is like-new without any paint rash.

Some models include paperwork, some do not. See the description below.

Mint condition, pristine original boxes without any writing or shelf wear.

Most models have door, hood & trunk protectors, interior foam blocks and protective tissue inside the styrofoam.

All photo-etched emblems are intact with protective acrylics.

This collection is as close as you can get to buying directly from the Danbury Mint if they were still producing models today.
Part #: DM1559M
Condition: Like New Storage Find / Mint in the Box w/ Title & Care Instructions
Price: $495.00
Status: In Stock