Danbury Mint / 1949 Mercury Surf Woody Wagon / 1:24th Scale
Sky Blue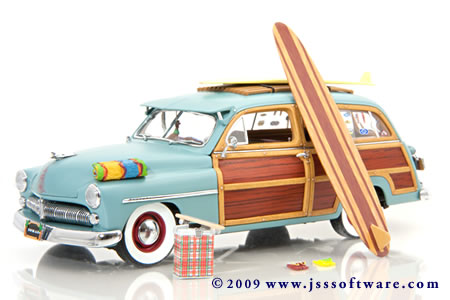 Surfs Up! In the early 60s these were the cars you wanted to own, especially if you lived on the west coast. Throw your board in the back and off to the beach you went, to kick back, catch a wave and just enjoy life. I want to mention just one thing about this model and that is the finish is flat Sky Blue not glossy. I only mention that because I know some collectors like a glass like finish and this one isn't one of them. That said I love the model and what it represents, a 60s car that was part of the surfing craze of that period. I really like the "Bling" that this Woody has, from the decals on the glass to the skate board and blanket you just have to smile when you place this one in your collection. The bottom line, for me anyway, is this model may not appeal to everyone but if you are into Woodies then you may want to add it to your collection just because.
from the "Ann's Like New" Danbury Mint Collection
This collection was purchased directly from Danbury Mint and placed in climate-controlled, spare room storage. Never removed from the original box, never displayed.

The paint finish is like-new without any paint rash.

Some models include paperwork, some do not. See the description below.

Mint condition, pristine original boxes without any writing or shelf wear.

Most models have door, hood & trunk protectors, interior foam blocks and protective tissue inside the styrofoam.

All photo-etched emblems are intact with protective acrylics.

This collection is as close as you can get to buying directly from the Danbury Mint if they were still producing models today.
Part #: DM1571M
Condition: Like New Storage Find / Mint in the Box, No Papers
Price: $475.00
ClearancePrice: $395.00
Status: In Stock